---
Disclaimer: This page may contain affiliate links. We may earn a small commission for purchases made through links in this post, at no extra cost to you.

David Lander ~ Part 2
If you have reached David Lander, Part 2, and would like to read Part 1 first, click here.
About his MS
David was diagnosed with multiple sclerosis in 1984, Fall Down Laughing: How Squiggy Caught Multiple Sclerosis and Didn't Tell Nobody is his book about, you guessed it, MS. It shows how he hid his disease from the public for 15 years till 1999 when he revealed it to the press. 

David Lander - spokesperson
David Lander is now a spokesperson for the National MS Society (NMSS) and an advocate for those with MS. In the year 2000, he was named Ambassador of the Year by the NMSS for his "mission to promote the early intervention of treatment for people newly diagnosed with MS".
Before he knew what he had, he described his MS symptoms like this in his book - Fall Down Laughing":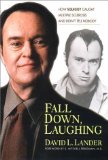 "What's wrong with these legs? Why won't they work?Like everyone with MS, there were clues that something was wrong with me but nothing added up as remarkable. Symptoms appeared and disappeared as if by magic; slowly, little by little, inch by inch. I would step in holes that were not there, trip on cracks in the sidewalk, or watch a drink slip through my hands twice in one night without feeling it leave my fingertips.

It seemed like my body was out of sync, like a badly dubbed Hercules picture. I could no longer trust it to follow the simplest instructions. On some days, crossing streets and climbing curbs became a challenge. On other days I would be okay. I knew something wasn't right, I just didn't know what it was called, if it was serious, or if it would ever go away.

On the days my body didn't listen, I told myself it was just one of those days, I didn't know what "one of those days" meant; nothing hurt, my body just wasn't working like it should. Then, without warning, I'd feel normal again. It was like living on a fault line. I knew a quake was coming, but I didn't know when it would erupt or how big the quake would be."
www.davidllander.com (will open in a new window).
Check out the link to his website above and to a video of an interview with him below. There are also many videos on YouTube where you can get a glimpse of the show, Laverne and Shirley.

Go to from David Lander, Part 2, back to Part 1 

---
Dear Friends,
"Life in Spite of MS is a participant in the Amazon Services LLC Associates Program, an affiliate advertising program designed to provide a means for sites to earn advertising fees by advertising and linking to Amazon.com. We're also part of the Ebay Partner Network, another affiliate program."
We'd also like you to know it doesn't cost one cent more  when you click through the links here on our blog. Not one single penny. And we will make a little extra cash when you do click through. We'll be ever so appreciative. You also have our word that we'll only link to things that we would use ourselves, (or wish we could have or use).
Sincerely,
Cir & Akrista
You are reading original content written by Akrista or Cir L'Bert of Life in Spite of MS. If you enjoyed reading this blog, please consider following us on Facebook, Twitter, Pinterest, and Instagram. See you there!
---
Privacy Policy ~ Advertising Policy ~ Disclaimer ~ Contact Us ~ About Us