---
Disclaimer: This page may contain affiliate links. We may earn a small commission for purchases made through links in this post, at no extra cost to you.

Meet Tamia!
Tamia's humble beginnings

Tamia Marilyn Washington was born in Canada to a teen mother. She grew up in the projects of Windsor, Ontario along with her three brothers, Tiras, Tajhee, and Trajan. She started out singing gospel songs in the choir at church. 

As she got older, she expressed an interest in popular music. She ended up performing on the Toronto Hospital for Sick Children Telethon in 1993, singing "We're Gonna Make It".

Moving up
In 1994, Quincy Jones heard Tamia sing when she came to Los Angeles. At the age of 19 she, along with several other artists, recorded for Quincy's album, Q's Jook Joint. She sang "You Put a Move on My Heart". Quincy Jones released the song as a single in 1995. She received a Grammy Nomination for it.

She collaborated with Brandy, Chaka Khan, and Gladys Knight on the song "Missing You". It was part of the soundtrack for the movie "Set It Off". This single also received a Grammy Nomination.

From there she went on to make several albums the first one being, "Tamia" which came out in 1998. She's been going ever since. The third album, "More" was scheduled to come out as "Still", but was put on hold because of health reasons.

The health reason, as she and hubby, Grant revealed later in 2003, was a diagnosis of MS. At first Tamia didn't want to tell anyone that she had multiple sclerosis, because she wasn't sure what it was.
When she did find out what it was and that it wasn't a "death" sentence, they came forward and let everyone know that she had MS. She wanted people to know that she was managing her symptoms and that having MS is not a sign of weakness.
Personal life
The singer met Grant Hill while in Detroit, Michigan. Anita Baker introduced the two. Grant was playing basketball for the Detroit Pistons at that time. They hit it off and were married on July 24, 1999.

Their first child, Myla Grace Hill was born on January 23, 2002. Lael Rose Hill was born five years later, August 9, 2007. The young mom didn't have any problems with her pregnancies.

Most of the people we've known that became pregnant while they had MS, did well. Multiple sclerosis seems to slow the progression and ease the symptoms. It may have something to do with the higher hormone levels women have during pregnancy.

Troubling symptoms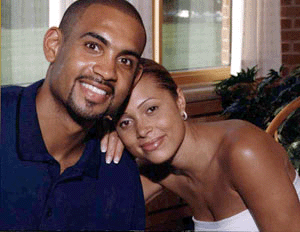 Tamia first felt the symptoms of MS around the same time Grant was dealing with a knee injury. She rushed him to the hospital with an infection. While he was recovering she began feeling more tired than normal.
She was also feeling numbness in her legs and other parts of her body. The tables were turned and now Grant was taking her to the hospital. Doctors first thought the numbness was from a pinched nerve and gave her muscle relaxants.

She was still not better after a few weeks and went back to the hospital. This time the doctor couldn't figure out what was wrong and told her to stop everything until a diagnosis could be made.

When she and her husband went overseas for their anniversary, she got even worse. Now she couldn't move. She couldn't even write to fill out customs forms. Grant had to fill out the forms for her.
Finally a diagnosis
She spent a week in the hospital this time. After several tests, she was finally given a diagnosis. Multiple sclerosis.

She was devastated at first because she didn't know what MS was. Doctors told her it was manageable, and this made all the difference. She wasn't going to lie down and take it. She wanted to be around for her young daughter. 
Moving on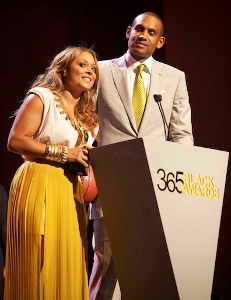 Black Image Awards
She takes an injection every other day and manages the symptoms. She has great support from her husband, Grant and other family members. As I said earlier, she had her second child in 2007 after being diagnosed.

The constants in her life, family, faith, and music, keep her going from day to day. She knows there's no cure yet, but she refuses to stop performing, in spite of having MS.

In the biography section of her web site – TamiaWorld – she talks about her love of music. We're glad she didn't listen.
---

"I'm always going to be that little 6 year-old singing into her brush with her mom yelling, "Tamia, please stop!"
Music is just a part of me-everything that I do, every step that I take. I am still thankful and amazed, because I still see myself as that little girl with a brush."
---
---
Dear Friends,
"Life in Spite of MS is a participant in the Amazon Services LLC Associates Program, an affiliate advertising program designed to provide a means for sites to earn advertising fees by advertising and linking to Amazon.com. We're also part of the Ebay Partner Network, another affiliate program."
We'd also like you to know it doesn't cost one cent more  when you click through the links here on our blog. Not one single penny. And we will make a little extra cash when you do click through. We'll be ever so appreciative. You also have our word that we'll only link to things that we would use ourselves, (or wish we could have or use).
Sincerely,
Cir & Akrista
You are reading original content written by Akrista or Cir L'Bert of Life in Spite of MS. If you enjoyed reading this blog, please consider following us on Facebook, Twitter, Pinterest, and Instagram. See you there!
---
Privacy Policy ~ Advertising Policy ~ Disclaimer ~ Contact Us ~ About Us