Want to Link to Us? ~ Choose a Banner!
If you'd like to Link to Us, you can. Just pick a banner, copy and paste the code in the text box. Add it to your website or blog.
Your visitors will be able to find us, easily and quickly. No need to bother with downloading pictures to your hard drive. Only to upload them again, save them, host them.... Well, I'm sure you get the idea.
Scroll down to the banners below
Choose the banner(s) that fit on your website the best
Right click and select all in the text box below the banner you like*
Right click and copy the code in the box*
Paste into your website or into an HTML code box on your blog
Save (*Other ways to Copy the text - Click in the URL box, and choose Select All from the Menu (or Ctrl-A; Command-A on a Mac). Now select Copy from the menu (or Ctrl-C; Command-C on a Mac)

468x60 Full Banner

234x60 Half-Banner

180x40 Mini Banner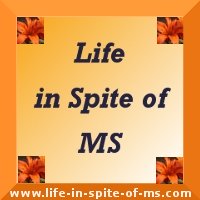 200x200 Square Banner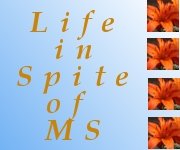 180x150 Rectangle Banner

120x120 Small Square Banner

120x90 Button Banner
120x240 Vertical Banner

88x31 Micro Banner
Now's the chance to quickly and easily add a link to your blog or site, of Life in Spite of MS, quickly and easily. And if you run into trouble, just contact us here. We'll see what we can do to fix the problem.
Need another size banner you don't see here? Or want the banner to link to another page? Just contact us! We'll make a banner that links to a specific page on our site. Or we'll make a different sized banner just for you. 
Go back to the Home page from Link to Us.
Privacy Policy ~ Advertising Policy ~ Disclaimer ~ Contact Us ~ About Us