---
Disclaimer: This page may contain affiliate links. We may earn a small commission for purchases made through links in this post, at no extra cost to you.

My VoxxLife Socks Story
(Clicking on this link will open a new window)
This is my VoxxLife Socks Story - well, the beginning of my story, I should say. I was contacted about a month ago by someone who thought I might benefit from trying out a pair of these new wellness socks by Voxx. Akrista read me the email and I said why not. It definitely can't hurt. They're just socks.
The person also said that some people with MS had experienced positive results by wearing them. So that sounded good, as well. I've used magnetic insoles before and they seem to help somewhat with overall strength and balance. These socks couldn't be any worse.
Got My VoxxLife Socks
Well, I got them in the mail a few weeks later and had totally forgotten about them. I'm sort of a neat freak so I didn't put them on right away. They sat on the bed for a couple days until I had an appointment for pain management. Akrista suggested I wear them. Plus, I'd been in an extraordinary amount of pain over the last few months, so my focus was more on getting through that than on trying something new.
I took my shower, shaved, and got dressed. I put on my VoxxLife socks. Hmm, I thought - they feel really good. I have several pairs of compression socks that I wear and these were definitely high quality and made well. I was slightly disappointed that they were crew socks because I wear an AFO that goes up to my knee, however, I still wanted to try them out. 
They are very comfortable and the fit was perfect. I wish I could say that my pain instantly went away, however, no, I still had a bit of pain while walking to the elevator, then to the front of the building where Akrista had brought the car around. We get to the doctors office and I still have a bit of pain as I'm walking down the hall to the room.
My pain number - a 2 out of 10!
The nurse asked all the normal questions and believe it or not, I could honestly say that while sitting there my level of pain wasn't more than a 2. After experiencing excruciating pain for the last several months, this was a definite improvement for me. It had been so bad, that the doctor had increased my Butrans patch from 5mcg/hour to 7.5 mcg. And it really hadn't helped very much.
At level 2, there was a nice respite from what I'd been going through. I didn't want to talk about it too much though, because I was afraid it was going to be short lived. After my appointment, we stopped at the pharmacy for my monthly pain medication prescription. I sat in the car while Akrista ran in to fill it. 
I went to the bathroom after we got back home and noticed a thrumming sensation in my feet and calves. That was different. And no pain - at least for the moment. I called Akrista in to tell her, even though I was still being cautiously optimistic. Any amount of relief was welcomed and I didn't want to jinx it by saying too much.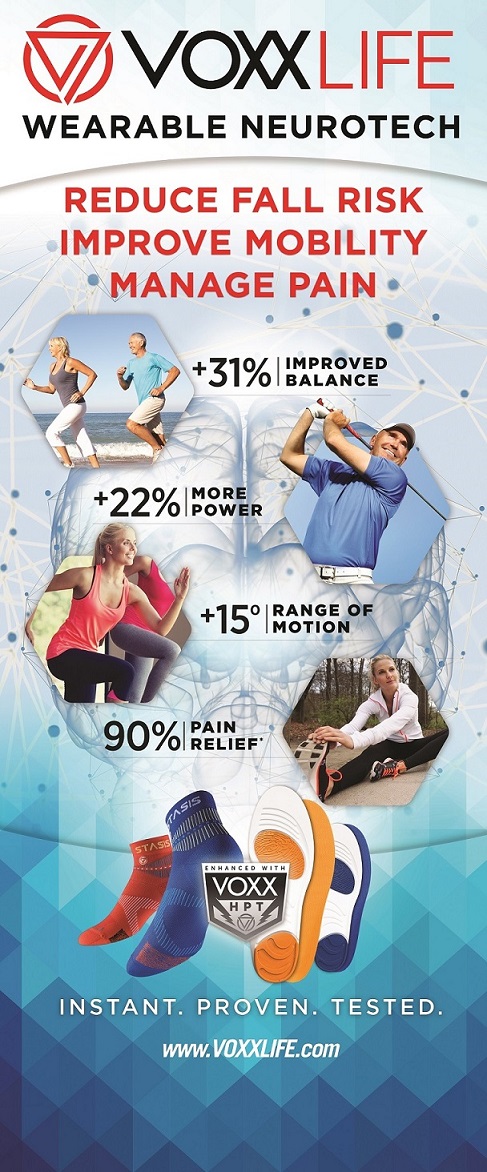 (Clicking on the image will open a new window)
As the evening wore on, I was convinced that there was something to this new (to me) technology. I still didn't want to say too much though. What if it was just like all of the other things I'd tried? I've had the shots, the tens unit, and even the implanted neuro stimulator, which I'd recently had surgically removed. I take medication, both oral and now a patch, all of it to no avail. I still had pain 90% of my waking hours and pain that sometimes woke me up.
When I did sleep, I didn't want to wake up because I knew I'd be in pain. We tried ice, heat, rubs like lidocane, nothing helped for very long. The pain always came back. And over the last several months - I'd even venture to say years - it has progressively gotten worse. Until my VoxxLife socks. It has only been 3 days, people. 
There's hardly any pain. I'm afraid to move too much for fear it will come back. This is the first thing in a long time that I've used that actually gave me real relief. I can't stop thinking about the possibility of living a life almost totally pain free. 60 - 50 - even 40% would be an improvement.
Oh yes, the other benefits
Pain has been so much a part of my life for the last while, that it's hard to think about anything else. However, yes, there are more benefits I'm experiencing in the short time I've had my VoxxLife socks on. (And yes, you heard that right - I don't want to take them off because the pain comes back).
I wear them to sleep and I've been sleeping better. When I walk to the bathroom, I have less balance issues. I can lift my toes on my right foot - a plus because I'm a drummer. If I get to the point where I can drum again, I'll be a happy man. I feel stronger. I can only see positive results as I continue to wear these socks.
I've been watching videos of others experiences and I can't wait to see how much better I feel as the days, weeks, and months, go on. I can't wait to share my story with my family, my friends, and anyone who will listen. I've even become an associate so that I can spread the word even more. Yep, those banners and links will take you to my new website where you can learn more about the technology that makes these socks so helpful for so many.
All I can say, is try it for yourself. They're just socks.... Not just any socks, however, it's something 99% of us wear everyday. And if they don't work for whatever reason, you've got a 30 day money back guarantee. I want my Akrista to try them. I want my children and grandchildren to try them. I want my brothers and sisters to try them. I want my friends to try them. If I could give everyone who has ever had pain a pair to wear for a week, I'd do it.
It's just socks...
Probably the best pair of socks you'll ever own...
So far, they're the best pair of socks I've ever worn. I'll keep you posted....
---
Dear Friends,
"Life in Spite of MS is a participant in the Amazon Services LLC Associates Program, an affiliate advertising program designed to provide a means for sites to earn advertising fees by advertising and linking to Amazon.com. We're also part of the Ebay Partner Network, another affiliate program."
We'd also like you to know it doesn't cost one cent more  when you click through the links here on our blog. Not one single penny. And we will make a little extra cash when you do click through. We'll be ever so appreciative. You also have our word that we'll only link to things that we would use ourselves, (or wish we could have or use).
Sincerely,
Cir & Akrista
You are reading original content written by Akrista or Cir L'Bert of Life in Spite of MS. If you enjoyed reading this blog, please consider following us on Facebook, Twitter, Pinterest, and Instagram. See you there!
---
Privacy Policy ~ Advertising Policy ~ Disclaimer ~ Contact Us ~ About Us