Who Gets MS?
Have you ever wondered who gets MS and why? I wondered that too, especially after Cir was diagnosed. And when we recalled that an earlier doctor had said he couldn't have it because he was African American and male. Obviously he was wrong.
There have been so many studies done and so much research about the question, that we do have some answers. But these answers sometimes lead to more questions. How about we stick to the questions we can answer.

Who actually figures out the answers to questions like, who gets MS? An epidemiologist is a scientist who studies patterns of disease. They can look at different factors like gender, genetics, age, geography, and ethnic background. When the numbers are in from all around the world, certain patterns come into view.
How many?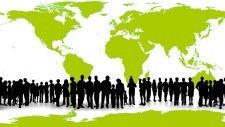 First of all, the number of people that have MS in the US is around 400,000. And about 200 people are diagnosed every week. In the world, there are about 2.5 million people who have multiple sclerosis.

Unfortunately, there are many people who may have minor symptoms that never end up at the doctor's office. They might think that their symptoms are due to stress or nerves, and don't feel that a doctor visit is warranted. They may never experience debilitating illness.

These people may have lesions throughout their central nervous system (CNS). And only through diagnostic tools like MRI's, would you even know that they were there. They are said to have "silent" MS. In fact, they may not even be "diagnosed", so to speak, until after their death.
How old?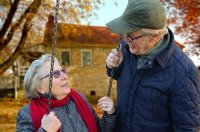 Another question many want to know about who gets MS, has to do with age. If you look at averages, the average age of diagnosis is between 20 and 40 years old. This is around the time when most people are beginning or establishing their careers. So it can be particularly devastating to many MSers.

Many MSers can look back and remember their first symptoms occurring in early childhood or in their teens. Pediatric or childhood MS may seem to be on the rise, when in fact it was there all along. It is very rare, that MS symptoms will happen before the age of 10 or after the age of 50.

Again, looking at averages, the average age of onset is 28 for men and slightly lower for women. And the average age of diagnosis is 33. Using Cir as an example, his age of diagnosis was 34, so he definitely falls within that statistic.
Privacy Policy ~ Advertising Policy ~ Disclaimer ~ Contact Us ~ About Us