---
Disclaimer: This page may contain affiliate links. We may earn a small commission for purchases made through links in this post, at no extra cost to you.

Meet Richard Pryor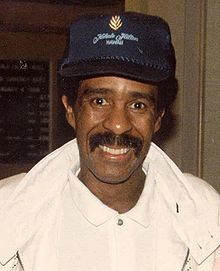 Richard Pryor was another African-American who just so happened to develop multiple sclerosis in spite of older statistics to the contrary. His diagnosis came in 1986 at a time when it was rare for people of color to get MS. He was a brilliant stand-up comedian who also did film and television. The subjects of his comedy included racism, race relations, politics, African-American culture, and everyday life, to name just a few.

richard Pryor - who was he?
If you grew up in the 70's and 80's, you no doubt have heard about and watched this iconic figure on TV. I'm sure his shows were "cleaned up" for prime time, however, if you attended his live shows, you were sure to see his true self.
He was very straight forward and didn't hesitate to use language that some people thought was vulgar and profane. Even with this, he was still very popular and influenced many comedians who came after him. Some artists who attributed him as influencing their choice of career, included Eddie Murphy, Dave Chappelle, Chris Rock, Robin Williams, Bernie Mac, George Carlin, and Whoopi Goldberg.
Richard, on the other hand, was influenced by comedians like Bill Cosby, Jack Benny, Dick Gregory, and Red Foxx. Jerry Seinfield called him the "Picasso of our Profession". And Bill Cosby reportedly said, "Richard Pryor drew the line between comedy and tragedy as thin as one could possibly paint it."
From what I can see by reading about his life and watching a few of his routines, Richard lived life to the fullest. We would all do well to take on this attitude. Life is too short and too precious to live half-heartedly. His life and the legacy he left will forever touch the lives of those who follow, whether directly or indirectly.
One thing I learned about him was that he even hosted a children's show in 1984 called Pryor's Place which was very similar to Sesame Street. Here's a video clip of the very first episode and I'm quite sure you can find a few more episodes if you looked for them.
One of the things I always remember about him was his smile. Even after he was diagnosed with MS, he continued to remain active as a comedian. He worked until around 1999, when multiple sclerosis finally brought his career to an end.
His wife, Jennifer Pryor, has continued to share his legacy with the world. You can find a link to his website, including updates, news, events, and even a shop to by official Richard Pryor merchandise.
---
"In 1986, Pryor was diagnosed with multiple sclerosis, a degenerative disease of the central nervous system. But that didn't stop his performing. In 1992 he could still be seen live at the renowned Comedy Store in West Hollywood, making jokes about his afflictions and his wheelchair and still painting incredible verbal pictures that stimulated the imagination of the audience so much they actually lived and felt the experiences with him."

From Richard's Official Biography.
Richard was born on December 1, 1940 and died on December 10, 2005 at the age of 65. During his last few years he needed an electric scooter to get around due to worsening mobility problems.
"Although his multiple sclerosis prevented him from performing in his last few years before his death in December 10, 2005, from his home in the Encino, which he shared with his two rescued dogs, Homer and Spirit, Pryor's mind continued to catalog the events of his life and the world around him.  Richard Pryor will never lose his position as cultural icon and we can only hope that a cure to this debilitating disease will soon be found so as not to loose another soul that reaches out and touches as did Pryor and his ability to allow us to experience our reality with the outrageous, profane, and scabrous perspective that only he imparted."

From The Official Biography of Richard Pryor

Did you also know that Richard Pryor was an activist and was opposed to the use of animals in research – even for MS? He loved animals so much that he and his wife Jennifer started Pryor's Planet. It's a non-profit organization that "is dedicated to helping grassroots efforts in saving lives, providing sanctuary and making the world a better place for all creatures."
If you love animals as well, why not consider making a donation to his organization, Pryor's Planet? You can also find official merchandise in the shop on the Richard Pryor website. Please consider only purchasing it there as other merchants are selling without the estate's permission. Also a portion of the proceeds will go to Southerners On New Ground (SONG).
As I said earlier, his legacy lives on even though he is not physically here with us. RIP, Richard. We love you!

Go back to Famous People with MS O-P.

---
Dear Friends,
"Life in Spite of MS is a participant in the Amazon Services LLC Associates Program, an affiliate advertising program designed to provide a means for sites to earn advertising fees by advertising and linking to Amazon.com. We're also part of the Ebay Partner Network, another affiliate program."
We'd also like you to know it doesn't cost one cent more  when you click through the links here on our blog. Not one single penny. And we will make a little extra cash when you do click through. We'll be ever so appreciative. You also have our word that we'll only link to things that we would use ourselves, (or wish we could have or use).
Sincerely,
Cir & Akrista
You are reading original content written by Akrista or Cir L'Bert of Life in Spite of MS. If you enjoyed reading this blog, please consider following us on Facebook, Twitter, Pinterest, and Instagram. See you there!
---
Privacy Policy ~ Advertising Policy ~ Disclaimer ~ Contact Us ~ About Us