---
Disclaimer: This page may contain affiliate links. We may earn a small commission for purchases made through links in this post, at no extra cost to you.

Meet Jamie-Lynn Sigler!
Jamie-Lynn Sigler, or Meadow Soprano, as you may know her, revealed that she has lived with Multiple Sclerosis for the past 15 years (in January of 2016). The actress and singer is probably best known for her role as the daughter of Tony Soprano, infamous New Jersey mob boss on the HBO series "Sopranos". 
I suppose you've all been wondering when we were going to get to this page, right? Well here you go. 
Jamie-Lynn, born in 1981, in Queens, New York, to parents, Steve and Connie Sigler. She grew up on Long Island, in Jericho, New York, along with two brothers, Brian and Adam. Connie, her Puerto Rican mother, who was raised as a Catholic, converted to Judaism when she married her Jewish American husband. 
Jamie-Lynn began acting at the young age of seven. She went to Hebrew school and had a bat mitvah around her 13th birthday as is the custom of Jewish families. She attended Jericho High School and also studied at the Cultural Arts Playhouse in Old Bethpage.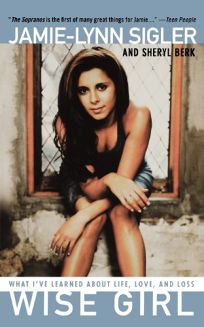 Wise Girl - 2002
In 1997, Sigler was cast in the role of Meadow (opens a new window), Tony Sopranos tough, yet sometimes troubled, eldest daughter. In her real life, Jamie-Lynn struggled with an eating disorder while filming the show. She is now a spokesperson for the NEDA (National Eating Disorders Association) and later appeared in a CNN special with Paula Zahn and several others who've experienced similar struggles.
The show, Sopranos, premiered in 1999, and Jamie-Lynn experienced fame as a TV actress. She continued in her role until the show ended in 2007. She went on to have starring roles in theater on Broadway and several more acting roles, including Will & Grace, and Ugly Betty. 
Jamie-Lynn actually found out she had MS when she was 20 years old and still acting on the show, Sopranos. The following video shows how she dealt with the diagnosis at the time and how she's dealing with it now.
Jamie-Lynn Sigler now
I think many people, although not in the spotlight, like Jamie-Lynn, feel that things will be different when they tell people about their diagnosis. In some cases this may be true, especially when family, friends, or acquaintances, don't understand what MS is.
Many times we don't understand what multiple sclerosis is or will mean for us in the future. In the beginning, Sigler felt that it meant she would be in a wheelchair, disabled, and unable to function. After living with it for 16 years as of 2017, she realizes that she can continue to do the things she loves. She just needs to think about and do them differently.
Even life as a wife and mom have helped her see things in a different way. She can't hide her multiple sclerosis from the world and still be able to one day answer questions about it from her 2 yr old son, Beau Dykstra. It still may be difficult to accept, however, she's getting on with her life, pacing herself in order to get through with all the things she needs to do during the day.
Others reactions to her news has been "overwhelming, but in a good way", she states. At 35, she's acting in a sitcom called "Baby Daddy" and enjoying being married to her husband Cutter Dykstra, MLB star.
Thank you, Jamie-Lynn Sigler, for being an inspiration to others living with multiple sclerosis! You wrote your first book when you were 21. Maybe your next one will be about living with MS. :)
Go from Jamie-Lynn Sigler to Famous People with Multiple Sclerosis.
---
Dear Friends,
"Life in Spite of MS is a participant in the Amazon Services LLC Associates Program, an affiliate advertising program designed to provide a means for sites to earn advertising fees by advertising and linking to Amazon.com. We're also part of the Ebay Partner Network, another affiliate program."
We'd also like you to know it doesn't cost one cent more  when you click through the links here on our blog. Not one single penny. And we will make a little extra cash when you do click through. We'll be ever so appreciative. You also have our word that we'll only link to things that we would use ourselves, (or wish we could have or use).
Sincerely,
Cir & Akrista
You are reading original content written by Akrista or Cir L'Bert of Life in Spite of MS. If you enjoyed reading this blog, please consider following us on Facebook, Twitter, Pinterest, and Instagram. See you there!
---
Privacy Policy ~ Advertising Policy ~ Disclaimer ~ Contact Us ~ About Us