---
Disclaimer: This page may contain affiliate links. We may earn a small commission for purchases made through links in this post, at no extra cost to you.

Meet Kym Sellers!
Kym Sellers became popular in Cleveland, Ohio around 1994, when she got a job as a deejay for the radio station, WZAK, 93.1. She grew up in our hometown of Akron, Ohio. We've always admired her tenacity and strength of spirit. Listening to her show, the Quiet Storm - just the name - those two little words, tell so much about her, although it's no longer playing. And an update, you can find a link to her new podcast, Living Strong, at the end of this page.
Listen to this page here
She was 28 and married to NBA player Brad Sellers of the Detroit Pistons at the time. The talk of the town, she became an overnight celebrity. "Kym-with-a-y", as she came to be known, was beautiful, athletic, and could strut with the best of them.
She began noticing problems immediately after having her first child. Her feet were numb for almost a week after the epidural wore off. Things got worse after her second child and that is when she decided to tell everyone that she had MS - a secret she'd kept for five years.
She took the disease head on and soon started The Kym Sellers Foundation: 
"The mission of The KSF is to provide outreach, awareness and education to individuals with Multiple Sclerosis and their families, in order for them to have a meaningful effect and significant impact on their quality of life."
Doctors told her that having more children, could possibly make her MS even worse. After two more children, she went from stumbling to eventually not being able to walk at all. She doesn't let that stop her, though. While preparing for her annual KSF Gala in 2008, she had this to say.
"Life goes on. Although my mobility is very limited, my mind is very strong."
She has family and friends who are willing to help whenever she needs them. One friend, Bridget Edison drove from Akron to Kym's home, almost an hour away, to help drive her to and from work. The Cleveland station decided to hire her when Kym need help with the controls while doing her evening show - Quiet Storm.
An interview with Kym Sellers
Kym tells her story best. Listen to the video below to learn about her life and experience with multiple sclerosis, as well as why she does what she does. She offers advice and also gives a voice to others who live with MS through The Kym Sellers Foundation.

Thanks, Kym.
Kym's stem cell treatment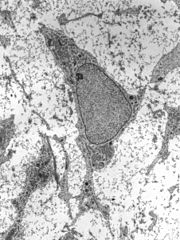 Kym recently underwent an experimental treatment using her own stem cells in February of 2014. She is the first person in Ohio to undergo the treatment and it is her hope that she won't be the last. The procedure uses mesenchymal stem cells - or MCS, which were harvested from adipose tissue or body fat - an very rich source of viable stem cells.

An update at three months
An update about the stem cell procedure, shows that she has made improvements. They may be small, however, they offer a spark of hope to many others who suffer from MS.
If we all have viable stem cells within our own bodies, this may be the answer for those who are healthy enough to have this treatment as an option.
"I have noticed improvements in my breathing, pain levels, edema and mobility. I can tell my body is trying to fight the disease," she said. "I am not out on the floor dancing yet, but I am making baby steps with my treatment and I really feel good about my progress," said Sellers."
Another Update: Kym Sellers at Fox 8 Cleveland, with daughter, Sydney.
A surprise visit with the OJays
Here is a video talking with her friend and OJay member, Walter Williams about MS. Walter also has MS and you can read his story here.

Where can you find Kym?
Living Strong Podcast - link below - her latest podcast was Jan. 24, 2023
---
Dear Friends,
"Life in Spite of MS is a participant in the Amazon Services LLC Associates Program, an affiliate advertising program designed to provide a means for sites to earn advertising fees by advertising and linking to Amazon.com. We're also part of the Ebay Partner Network, another affiliate program."
We'd also like you to know it doesn't cost one cent more  when you click through the links here on our blog. Not one single penny. And we will make a little extra cash when you do click through. We'll be ever so appreciative. You also have our word that we'll only link to things that we would use ourselves, (or wish we could have or use).
Sincerely,
Cir & Akrista
You are reading original content written by Akrista or Cir L'Bert of Life in Spite of MS. If you enjoyed reading this blog, please consider following us on Facebook, Twitter, Pinterest, and Instagram. See you there!
---
Privacy Policy ~ Advertising Policy ~ Disclaimer ~ Contact Us ~ About Us