---
Disclaimer: This page may contain affiliate links. We may earn a small commission for purchases made through links in this post, at no extra cost to you.

Genetics as a cause of MS
Most doctors and scientists pretty much agree that genetics are not a cause of MS. It is true however, that if there are family members who have multiple sclerosis, your chances of developing it are slightly higher.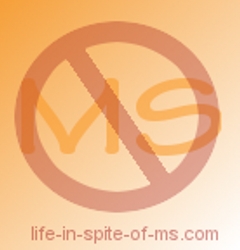 We've asked Cir's doctor about this on more than one occasion. The first time, he assured us that we didn't need to worry. Our children had only a slightly higher risk of developing MS than the average population.

Another specialist, Lael Stone, at the Mellen Center at Cleveland Clinic also gave us encouraging news. She said that in all her years of working with multiple sclerosis patients, she had only seen 1 or 2 cases of a father passing it on to their children.
Most of the incidences she saw were mothers passing it to their children. Now, I know this isn't good news for women. But even then, the chances are still low.
Also, Caucasians are more likely to have MS, than other races. When Cir first went to the doctor complaining of imbalance and optic neuritis, the doctor told him he couldn't have it because he was African-American and male. But as we now know, that was not the case.
Recently we asked Cir's neurologist about whether our children were at risk - if genetics played any part in whether family members, specifically in children who have parents with MS.
He told us about a study he had been doing. The study found that vitamin D levels in his patients with MS was a lot lower than they should be.
Genetics - no? Precautions - yes.
We encourage our three children to take vitamin D and ask them to make sure our granddaughters take it as well. The way we see it, it can only help because it has so many benefits and it definitely won't hurt.
Our physical make up, as we see it, plays a role, not just by itself, but when other factors, such as negative environmental factors, for example, are present as well.
To read more about the causes of MS, click here.

Related pages
If you arrived on this page first and would like to read about stress as a cause of MS, click here.
Click here to read about the signs of stress.
Click here to find out how to identify your stresses.
Click here to read about other things that may cause MS.
Click here to read about environment as a cause of MS.
Click here to read about hormone deficiency as a cause of MS.
Click here to read about viruses as a cause of MS. 
Go from Genetics back to What Causes Multiple Sclerosis

---
Dear Friends,
"Life in Spite of MS is a participant in the Amazon Services LLC Associates Program, an affiliate advertising program designed to provide a means for sites to earn advertising fees by advertising and linking to Amazon.com. We're also part of the Ebay Partner Network, another affiliate program."
We'd also like you to know it doesn't cost one cent more  when you click through the links here on our blog. Not one single penny. And we will make a little extra cash when you do click through. We'll be ever so appreciative. You also have our word that we'll only link to things that we would use ourselves, (or wish we could have or use).
Sincerely,
Cir & Akrista
You are reading original content written by Akrista or Cir L'Bert of Life in Spite of MS. If you enjoyed reading this blog, please consider following us on Facebook, Twitter, Pinterest, and Instagram. See you there!
---
Privacy Policy ~ Advertising Policy ~ Disclaimer ~ Contact Us ~ About Us