Welcome 
to
Markita's
Life in Spite of MS Space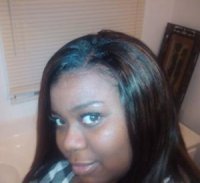 Markita's Profile:

Young Mom with MS

Name: Markita in Lawrenceburg, TN
How long with MS: less than one month
Year DX: DX in 2011
Type of MS: Too soon to tell
About Markita
I am a 22 years old single mother of 2. I went into the hospital on 4/22/11 for just a simple outpatient procedure. When I was awakened from recovery I was unable to feel or move my lower body (From my waist down).
I was sent for a lot of tests and later that day was diagnosed with MS. The doctor said that I was in the early stages, however she could not tell me when I would be able to fully walk again.
I have read a lot of stories from other MS patients and I am not as scared as before. I do not know where my life as a single mother will go from here, but all I can do is pray and keep faith.
Thank u!!
Markita, Create Your Room!
Use this easy form to create pages in your room. Share your thoughts and advice about learning to live with MS. You can add stories, poems, videos... Share whatever you like in your MS~Space.


Note: This form is for use in this room only. If you are not Markita, please click the link below for your own space.


Do you like what you see here. Would you like your own Life in Spite of MS Space? It's easy. Just click on the link below, fill in the form and when your MS Space is ready, I will let you know. To create your own Life in Spite of MS~Space Click here.

Go from Markita's Life in Spite of MS Space back to Life in Spite of MS Space.

Privacy Policy ~ Advertising Policy ~ Disclaimer ~ Contact Us ~ About Us