---
Disclaimer: This page may contain affiliate links. We may earn a small commission for purchases made through links in this post, at no extra cost to you.

Tysabri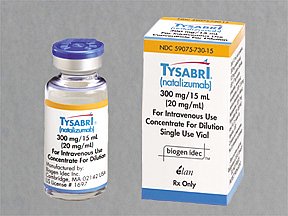 Tysabri has multiple personalities – no, just kidding. But it is known by several names. One of the disease-modifying treatments for MS, it was first known under the brand name of Antegren. Now natalizumab, (the chemical name), is called Tysabri.

There is still much concern around this particular immune-modulating drug. The company, Biogen Idec Inc. produces the antibody-based drug along with Elan Corp. In fact just recently, two patients developed the condition PML (progressive multifocal leukoencephalopathy). That's quite a mouthful isn't it?
PML is no laughing matter. Even though it is rare, it is also a potentially fatal condition. The FDA issued an updated Safety Alert for natalizumab. Click here to read more about it. This link will open in a new window.
As recently as last month, the following was reported in a Market Watch article about natalizumab:

"Late Thursday, Biogen reported in a regulatory filing that it had received word two more cases of PML, an extremely rare but dangerous condition, had been acknowledged in Tysabri users. Both of the patients are in Europe.
Biogen said both patients were alive and stable. One patient remains hospitalized, while the other is recuperating at home. Both received blood-plasma transfusions to flush the drug from their systems.
One of the patients had taken Tysabri for about 17 months and had never taken other MS drugs. The other was on the drug for 14 months, and had taken in the past other immune-modulating MS drugs, namely beta interferons. – Aug. 1, 2008; Market Watch."
Taking Tysabri - Yes or No?
Cir's doctor has suggested he consider taking this treatment more than once. He has also been honest with us about the side effects. PML is a rare viral infection of the brain. According to the statistics, one in 1,000 will possibly develop the condition. But once you do get it, it is incurable and could lead to death or severe disability. (This result has changed based on certain criteria being met).
To read the form given to each patient before starting the treatment and before receiving the infusion click here. This is a pdf file from the FDA site. It will open in a new window.
We talked it over each time the doctor suggested trying this disease-modifying drug. The fact that it is only taken once every month was very tempting for Cir. But the statistics were a risk neither he or I was willing to take.
Taking natalizumab increases your chance of getting a rare brain infection that usually causes death or severe disability. This infection is called progressive multifocal leukoencephalopathy (PML). If PML happens, it usually happens in people with weakened immune systems.

No one can predict who will get PML.

There is no known treatment, prevention, or cure for PML.
Sorry, but no thanks. We're not ready to take that chance. 
UPDATE: Guess what? Cir changed his mind - yes go here to read about it.
If you'd like to read more about this treatment before you make your decision, click here for Part 2. 
---
Dear Friends,
"Life in Spite of MS is a participant in the Amazon Services LLC Associates Program, an affiliate advertising program designed to provide a means for sites to earn advertising fees by advertising and linking to Amazon.com. We're also part of the Ebay Partner Network, another affiliate program."
We'd also like you to know it doesn't cost one cent more  when you click through the links here on our blog. Not one single penny. And we will make a little extra cash when you do click through. We'll be ever so appreciative. You also have our word that we'll only link to things that we would use ourselves, (or wish we could have or use).
Sincerely,
Cir & Akrista
You are reading original content written by Akrista or Cir L'Bert of Life in Spite of MS. If you enjoyed reading this blog, please consider following us on Facebook, Twitter, Pinterest, and Instagram. See you there!
---
Privacy Policy ~ Advertising Policy ~ Disclaimer ~ Contact Us ~ About Us