MS Caregiver
If you are an MS caregiver you can relate to our story. As a caregiver, you face your own set of challenges, just as I do. Watching a loved one slowly (or quickly) progress to the point of disability, can be very difficult to do. 
I find myself feeling helpless when there is nothing I can do other than be there. Which in itself is enough sometimes. Caregiving can be draining emotionally as well as physically. What can you do?

Note: (Clicking link opens new window and takes you to Caregiving Essentials, a really great caregiving site).
One thing that helps me get through the rough days, is knowing that I love Cir. That makes all the difference. When you love someone, you are willing to make the sacrifices necessary to help them be all that they can be in spite of their illness.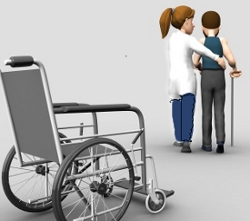 MS caregiver - a 24/7 job
Caregiving is a 24/7 job. And as a spouse MS caregiver, you will do anything from what you normally do already as a spouse to taking care of your loved ones every need. How much and what you do depends on your spouse or loved ones level of disability.
Cir is somewhere in the middle of the disability scale. He can take care of many of his needs by himself depending on the day. On a bad day, I may need to help him transfer all the way to helping him go to the bathroom.
On good days, he can do those things himself. I will just be there to cook, keep his area clean, fetch things for him and spot him during transferring. This I do along with taking care of our daughter (who's 16 and almost maintenance-free), and keeping up the house.
Take care of yourself
There are several things you need to learn as an MS caregiver. One is that you will need to take care of yourself. Without you, your spouse or loved one will be left out in the cold. Well not literally, but they will be left without a vital person in their lives and on their healthcare team.
You are possibly the most valuable person on their team. The one who makes sure that their needs are met. The one who has their back so to speak. The one who knows them the best. The one who can relate to others what they're going through.
Do you know your limitations as a caregiver? Click here to go to Part 2.


Go back to the Living with MS Family.

Privacy Policy ~ Advertising Policy ~ Disclaimer ~ Contact Us ~ About Us