---
Disclaimer: This page may contain affiliate links. We may earn a small commission for purchases made through links in this post, at no extra cost to you.

Healthcare Team - Living with MS
| | |
| --- | --- |
| Living with MS - Healthcare Team. Sounds like the name of an amateur football team to me. Well maybe not, but you will inevitably deal with physicians and doctors of different kinds. | |
Cir has a neurologist, a urologist, and a GP or general practitioner, and also a home healthcare aide. He has also had physical and occupational therapists, a home health nurse....
Well, I think you get it by now that there can be a lot of people caring for a person living with multiple sclerosis.
One way to keep everyone and everything organized is to keep your records all in one place. A notebook with each of the doctor's contact information in it will help keep your health care team records in order. And if you're computer savvy, a document in Notepad or Wordpad, or one of the other programs like Word, can be easily updated with current medications and doctor visits. Cir and I are working on a organizational tool to help with this area.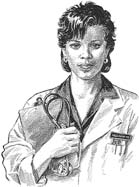 In the meanwhile, make a list of all the doctors and physicians who currently take care of you or your family member with MS. Each of their names, addresses, phone numbers, and what to do in case of an emergency. Include the following:
Your Living with MS - Healthcare Team
Health Care Team
Primary Care Physician – PCP
General Practitioner – GP
Urologist
Therapists - physical and occupational
Home Health Agency
Case Manager
Home Health Aide
Pain Management
Counselor
Visiting Nurse

You may have only a few of these on your health care team. Or you may have all of them or more than those listed in the above list. Again, it all depends on your situation and the different symptoms you have with your MS. Make up your list and keep it in a notebook or computer file for easy access.
It's also a good idea to keep a list of the current medications, (including supplements) you take. A calendar with doctors appointments is also good to keep for reference. Whenever his case manager comes to call, we try to make sure we have it updated. She makes sure he has everything he needs, including any durable medical equipment or (DME).
A nurse from his Home Health Services company also makes a visit every three months. She also appreciates the updated list as it saves a lot of time. She can take a copy or scan a copy into her computer.
We usually take a copy when meeting with a new doctor for the first time or whenever any of his information changes. It beats trying to remember everyone on his team, as well as medications, past history, doctor visits, dates of operations, etc. Very helpful, so much so, that I now do it myself, even without MS.

Do you also deal with emotional and physical issues? Click the link to read more. 

Go from Healthcare Team back to Living with Multiple Sclerosis

---
Dear Friends,
"Life in Spite of MS is a participant in the Amazon Services LLC Associates Program, an affiliate advertising program designed to provide a means for sites to earn advertising fees by advertising and linking to Amazon.com. We're also part of the Ebay Partner Network, another affiliate program."
We'd also like you to know it doesn't cost one cent more  when you click through the links here on our blog. Not one single penny. And we will make a little extra cash when you do click through. We'll be ever so appreciative. You also have our word that we'll only link to things that we would use ourselves, (or wish we could have or use).
Sincerely,
Cir & Akrista
You are reading original content written by Akrista or Cir L'Bert of Life in Spite of MS. If you enjoyed reading this blog, please consider following us on Facebook, Twitter, Pinterest, and Instagram. See you there!
---
Privacy Policy ~ Advertising Policy ~ Disclaimer ~ Contact Us ~ About Us