---
Disclaimer: This page may contain affiliate links. We may earn a small commission for purchases made through links in this post, at no extra cost to you.

Neurologist
A neurologist is a doctor who specializes in nervous system conditions. In terms of MS, they do examinations of the nerves and reflexes, (that's always fun). They examine motor and sensory functions, as well as functions of the muscles.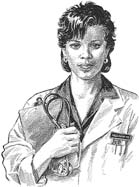 In order to determine if you have MS, (or to rule it out), the nerves of your head and neck will also be examined thoroughly. Your doctor will conduct specific tests to determine your muscular strength and range of motion.

Balance, coordination, and reaction time
Other tests will include checking your balance, and whether or not you have different sensations. One of the tests that Cir's doctor has Cir do checks his coordination and reaction time. The doctor holds up his finger and tells Cir to touch his nose then touch the doctors finger. All the while, Dr. Carrabine is moving his finger to the left and right.
Cir always passes with flying colors. His doctor is usually impressed with Cir's overall progress, or rather his lack of progression. (I guess with MS you don't really want to progress. And that's a good thing).
Your doctor will probably ask you questions that will help in determining if you have cognitive problems. Your memory, speech, and language may be effected.
The big ones
The big tests that your neurologist will have you take are CAT scans and MRI's and possibly a spinal tap. All of these will help to confirm whether or not you have MS.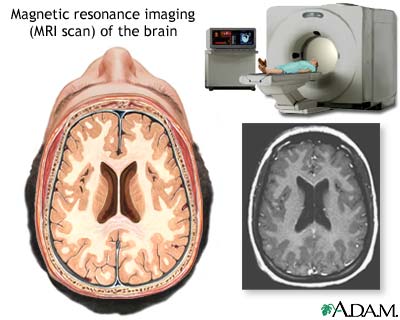 Cir had an MRI that confirmed that he had multiple sclerosis. The first MRI, we never saw. The doctor actually called Cir at work and told him he had found the "white spots". Cir was okay with it, (finding out it was MS). He had expected it all along.
Once your neurologist determines that you have MS, they will treat you with one of the MS medicines available or some other therapy. They will probably be the main person in your healthcare team as far as your multiple sclerosis needs are concerned.
A working friendship with your neurologist
It's good to have a working friendship with your neurologist. You're not going to be buddies, but you should be able to ask questions and get honest, complete answers.
Of the three that Cir has had, one has been very personable and actually listened to what Cir wanted to do. He didn't force Cir to take medications he didn't want to. He made suggestions and gave detailed explanations.
If you can, find a doctor who is able to meet your needs. One who you are comfortable with. One with whom you have a good fit, then by all means, keep them on your healthcare team.
If not, consider finding another. You need to be comfortable with them because more than likely this relationship will be a long one. You need someone you can trust.
Go back to the Glossary 

Go to Living with MS - Healthcare Team 

---
Dear Friends,
"Life in Spite of MS is a participant in the Amazon Services LLC Associates Program, an affiliate advertising program designed to provide a means for sites to earn advertising fees by advertising and linking to Amazon.com. We're also part of the Ebay Partner Network, another affiliate program."
We'd also like you to know it doesn't cost one cent more  when you click through the links here on our blog. Not one single penny. And we will make a little extra cash when you do click through. We'll be ever so appreciative. You also have our word that we'll only link to things that we would use ourselves, (or wish we could have or use).
Sincerely,
Cir & Akrista
You are reading original content written by Akrista or Cir L'Bert of Life in Spite of MS. If you enjoyed reading this blog, please consider following us on Facebook, Twitter, Pinterest, and Instagram. See you there!
---
Privacy Policy ~ Advertising Policy ~ Disclaimer ~ Contact Us ~ About Us