---
Disclaimer: This page may contain affiliate links. We may earn a small commission for purchases made through links in this post, at no extra cost to you.

Meal Planning
Here's a great article about meal planning by Christine Steendahl of Menu Planning Central. I totally agree with her that planning meals is the best way to go. One of my biggest headaches is not having an idea of what to cook...and it's 30 minutes till dinnertime. When I have a plan, everything always works out better.
When you or someone you love has MS, anything to make life a little easier can only help. Enjoy the article. Take what you can use, and leave the rest.
7 Reasons Why Meal Planning Is A Great Idea
Planning meals ahead of time is a great idea, since there are many benefits that come along with it. Meal planning affects many different aspects of life, including your time as well as your financial situation. No matter what situation one may be in, planning your meals ahead of time is always a good idea. Meal planning makes it possible for almost any size family to eat healthy meals everyday of the week on a budget. It also gives you more time together as a family while spending less money.
Saves Time
Planning your meals ahead of time will save you a lot of time. When you visit your grocery store, take a list with you that shows everything you need for your weekly meals. This way there will be no return visits to the grocery store for something you forgot, and you won't waste any time deciding what you are going to have for dinner that night. Forgetting a key ingredient or having to fight in long lines at the grocery store can be very frustrating, but meal planning can completely eliminate that.
Saves Money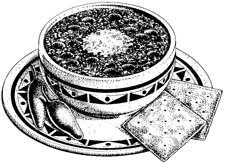 Who doesn't like to save money? And if you can reduce the amount you spend on grocery bills, you can save it up for something really fun – like a special night out or a family vacation. Meal planning saves anyone a significant amount of money, since meal planning is much cheaper than eating fast food. Also, since you will be bringing a shopping list with you to the grocery store, there will be no more impulse buys and wasted food. We've all fallen victim to foods that we suddenly have a craving for when we are shopping only to get home and realize that we need other ingredients to turn it into a meal. And having a shopping list will make it easier for you to clip coupons, since you know what you will be purchasing each week. This means even more savings to you and your family.
Meal planning allows you to create a calendar of what you will have for dinner each night. If you create a menu one month at a time, you can ensure that you aren't having chicken nuggets five nights a week. Having an overall calendar of meals will allow you to shop for foods when they are on sale and buy in bulk whenever possible.
Health
Planning out what you are going to cook for dinner will make it possible to ensure you are cooking a healthy meal every day of the week. While eating out is convenient in our ever busy world, eating fast food or at restaurants is not nearly as healthy as cooking it at home. This is largely due to the fact that you don't have control over what goes in those meals. By preparing your own meals, you can choose healthy options, like baked chicken, and add any of your favorites for a side like a fresh green salad or steamed vegetables. Most boxed or frozen dinners contain a great amount of fat and sodium, but cooking the meal from scratch can eliminate them. You control the flavor and the fat. You can take steps to reduce the amount of fat by adding seasoning and spices to perk up the flavor.

Prevent Obesity
The rise of fast food chains in the world means that more people are becoming overweight and obese. Obesity can bring on many health issues, including heart or breathing problems. It is important to prevent a child from becoming overweight and teach them the importance of balanced meals.
Cooking homemade healthy meals can do this. When you plan out what you are going to make, you can be certain that it will be healthy for the entire family. It allows you to have a better handle on the nutritional content of your meals. You can also tailor it to each family member's needs. If there is someone who needs to watch their fat consumption, you can cook, grill, or broil, instead of fry. If there is someone that is trying to get more servings of vegetables in their diet, you can help by offering two veggies for side dishes.
Spending More Time With Your Family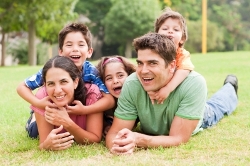 Because planning out your meals gives you more time during the day, you can spend it doing something that really matters. Spending time with family should be the first thing on anyone's priority list, and being able to spend more time with them is a wonderful perk to meal planning. You can use this time to either play with your children outside, or maybe talk with your spouse about their day at work.
With the time saved with meal planning, the family can enjoy a walk together after dinner, play yard games such as croquet or bocce ball, or compete in a board game night. No matter how you use the time, it is special and necessary to keep a family running. And when your kids are grown up and look back on their childhood, those will be the times they remember most fondly. Just think about all the home cooked meals that you look back on warmly. No one cooks it like mom does.
Teaching Essential Skills
By including children in the meal planning process, they can learn many skills that will carry with them into adulthood. They can help to plan the meals, and learn about the different nutrition groups. Learning how to assemble a balanced meal is a great skill to have. Measuring different ingredients in the meals teaches children about fractions.
Younger kids can just play with the different kitchen utensils, which allows them to explore and learn about the huge world they have yet to explore and learn about. Spouses can get in on the fun, making it possible to bond with one another by cooking a meal for each other.
Meals where each person can individually tailor food to their liking, such as making your own pizzas or a taco bar, allow a great opportunity for the whole family to cook and learn together.
Reduces Stress
Our world is hectic. We are being pulled in several different directions each day. Because we live in a fast paced world, it is important to do everything possible to reduce your stress load. We have enough stress with our every day lives without mealtime stressing us out. Planning meals can reduce your stress since you won't have to worry about everything that goes into making a meal for your family.

As long as you bring your list to the store and buy everything on the list, you will be all set. You can choose to either visit the store each week or twice a month, rather than a million times like before. The increased time you have will allow you to relax more often, and even feel great when interacting with your children. If you are enrolled in a food delivery service, having a handy list makes online shopping a breeze. Have it with you when you log in to order food and you won't have to worry about a thing.
As you can see, there are many benefits to meal planning. From the ever crucial facts of saving money and eating healthier, to reducing stress and spending more time with your family. Planning healthy meals only takes a little extra effort. And once you get the hang of it, it'll become second nature and make your life so much easier. You'll be wondering why you hadn't started meal planning earlier. And with all the time and money you save, you can spend it on something that really matters – your family!
For more great meal ideas and a free menu planning report visit Menu Planning Central – Watch for a great meal planning offer after you sign up and let me – The Menu Mom – help you take care of dinner tonight!
Go from Meal Planning back to Articles 
Go from Meal Planning to Resources

---
Dear Friends,
"Life in Spite of MS is a participant in the Amazon Services LLC Associates Program, an affiliate advertising program designed to provide a means for sites to earn advertising fees by advertising and linking to Amazon.com. We're also part of the Ebay Partner Network, another affiliate program."
We'd also like you to know it doesn't cost one cent more  when you click through the links here on our blog. Not one single penny. And we will make a little extra cash when you do click through. We'll be ever so appreciative. You also have our word that we'll only link to things that we would use ourselves, (or wish we could have or use).
Sincerely,
Cir & Akrista
You are reading original content written by Akrista or Cir L'Bert of Life in Spite of MS. If you enjoyed reading this blog, please consider following us on Facebook, Twitter, Pinterest, and Instagram. See you there!
---
Privacy Policy ~ Advertising Policy ~ Disclaimer ~ Contact Us ~ About Us