---
Disclaimer: This page may contain affiliate links. We may earn a small commission for purchases made through links in this post, at no extra cost to you.

Inspirational Quotes and Images
Inspirational quotes and images are just the thing when MS is getting you down. Come back again and again to find words of encouragement. Maybe the beautiful images and inspiring words will give you the strength to go on.

Cir and I both love taking pictures.  However, most of the images you find here are from others who offered their photos or images for others to use.
(If you like the photos and would like to see more, you can then google the name in the description box for more of their work.)
Enjoy the words and pictures!
Inspirational quotes and images



I'm thankful for my struggle, for without it, I wouldn't have stumbled across my strength.


"For beautiful eyes, look for the good in others; for beautiful lips, speak only words of kindness; and for poise, walk with the knowledge that you are never alone."   


~ Audrey Hepburn




"A good laugh and a long sleep are the two best cures for anything."

Irish Proverb




It's not what we have in life, but who we have in life that maters.

A strong person isn't the one who doesn't cry. A strong person is the one who cries and sheds tears for the moment, and then gets up and fights again.




I am not lazy,

I am on

energy saving mode. 
Passion Flower by Hamed Saber
"Do what you can with what you've got wherever you are."
~ Theodore Roosevelt ~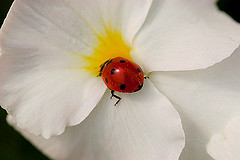 Ladybug and Pansy by I Shutter
"We can only be said to be alive in those moments when our hearts are conscious of our treasures."
~ Thornton Wilder ~
Red Rose by K Junstorm
"There are only two ways to live your life. One is as though nothing is a miracle. The other is as though everything is a miracle."
~ Albert Einstein ~
Do you take photographs, paint pictures, or write inspirational poems about MS? We'd love to hear from you! Use the form below to add your quotes and photographs (updating soon). Use the links above to submit your artwork and poems.
Inspirational words can help you to make it through another day. They can help you see that things aren't so bad. They can also help you realize that you are not alone. That there is someone out there going through the same things that you are going through.
So read the inspirational words above and let us know what you think. Then come back and add your own! 

Do you have an MS Quote You'd Like to Share?
Would you like to share an MS Quote that helps you get through the day? A short saying that helps when you're feeling discouraged? Or one that you share with someone who's feeling like they've come to the end of their rope?

Often times it only takes a few words to shake you out of a feeling sorry for yourself mood. Or you just don't feel like making the effort to do something that needs to get done.

Those are the times when short saying could nudge you on or push you to just take the next step. What are the words that help you? Those words may be just the ones to help someone else.

Add a couple of sentences in the comment section below. Add your MS Quote so that others can benefit from what has helped you. Sometimes just a few words are all that's needed.

Go from Inspirational Quotes back to Resources. 

---
Dear Friends,
"Life in Spite of MS is a participant in the Amazon Services LLC Associates Program, an affiliate advertising program designed to provide a means for sites to earn advertising fees by advertising and linking to Amazon.com. We're also part of the Ebay Partner Network, another affiliate program."
We'd also like you to know it doesn't cost one cent more  when you click through the links here on our blog. Not one single penny. And we will make a little extra cash when you do click through. We'll be ever so appreciative. You also have our word that we'll only link to things that we would use ourselves, (or wish we could have or use).
Sincerely,
Cir & Akrista
You are reading original content written by Akrista or Cir L'Bert of Life in Spite of MS. If you enjoyed reading this blog, please consider following us on Facebook, Twitter, Pinterest, and Instagram. See you there!
---
Privacy Policy ~ Advertising Policy ~ Disclaimer ~ Contact Us ~ About Us