---
Disclaimer: This page may contain affiliate links. We may earn a small commission for purchases made through links in this post, at no extra cost to you.

Bladder Problems - Part 3
If you landed here at Bladder Problems - Part 3 and want to read Part 1 and Part 2 first click the links to start there first.
Bladder Problems Part 3
After awhile though, for Cir, the medication didn't work as well. He began leaking because he wasn't able to empty all the way. Then came the "diaper days". He wasn't that comfortable buying them, but he had no choice. It was even more embarrassing to wet on himself.

One day he just couldn't go. He began having spasms every time he had to go to the bathroom. This went on for almost two days until we finally decided he need to go to the emergency room. Something was seriously wrong.
We got to the emergency room and told them that Cir couldn't go to the bathroom. He hadn't emptied in almost two days. They rushed him right to the back. The ultrasound showed his bladder was almost twice the size it was supposed to be.
Catheter - Permanent or self
They told Cir they had to get the urine out. He asked them how. "Catheter", they said. Cir got really quiet. He was not feeling too great about a tube going inside him so that he could urinate. He got through it alright, though, and went home with an indwelling catheter.
He had to keep it in for for about a week, until his bladder went down to a more normal size. This was no fun either. But after that whole ordeal was over, he had to make a choice.
The urologist met with him and after taking out the catheter, he told Cir he could either have a permanent catheter. Or he could begin intermittent self-catheterization or (ISC), (sometimes called intermittent catheterization or IC).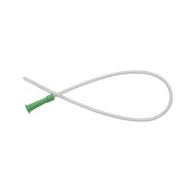 He chose to do ISC. He was still able to use his hands so his doctor said he shouldn't have a problem. And to make a long story short, he is totally happy with it. He doesn't need to use adult diapers because he always empties his bladder. There is nothing left to leak or dribble.
He does need to be very careful about cleanliness, to avoid getting infections. Even though he is very careful, he has still had a few. This is probably unavoidable when you are always introducing something foreign into your body.
Not impossible to learn
Bladder problems are not an impossible situation to overcome. It may seem so when you are first faced with it. The thought of having to do something like that for the rest of your life can be frightening. But you can do it.
Once you learn how to self-cath, it becomes second nature. Until we write a page about how to do it, here is a neat pdf book about how to self-cath from St. Joseph' Healthcare of Hamilton, Ontario - (see note below). Cir feels so much better doing it. He has none of the symptoms that go along with having bladder problems, like urgency, hesitancy, or leaking, so that's a plus.
Note: This pdf file was written in 2005. Since then, Medicare guidelines have changed a little. You can now get enough catheters so that you don't have to re-use or wash them, once you meet the requirements. (You should try and find out what the guidelines are for your state or where ever you live).
Learning to Live with bladder problems
Plus now there are many more options available that make the possibility of infections less likely. So if you are having bladder problems, don't hesitate to let your doctor know. There are many ways of dealing with them so that you no longer have to tolerate this problem.

How you learn to live and deal with bladder problems will make a big difference in your quality of life. You really don't have a choice whether or not you confront this problem. If you have it, you must come to terms with it and the sooner the better.
Other Options for Dealing with Bladder Issues
There are many other ways to deal with bladder issues when they become a problem. Your doctor may suggest several options, such as physical therapy, or medications. Even within these categories, there are many different things you can try. 
As far as physical therapy, there are exercises such as kegels which can help strengthen the pelvic muscles and thus help the bladder better able to function. Biofeedback can also strengthen the pelvic floor muscles in order to promote relaxation of the muscles so that you can urinate more easily.
If you've ever had acupuncture, percutaneous tibial nerve stimulation is a similar treatment where a technician will insert a thin needle electrode into a specific point in the ankle to transmit signals to the nerves that the muscles of the pelvic floor and bladder muscles. The treatment takes place over a period of 12 weeks. Each week you would go in for a 30 minute session.
There are many medications that can help with bladder problems. Cir takes oxybutynin or Ditropan which helps relax the muscles in the bladder in order to relieve urine more easily, even while doing self-catheterization. Several other medications include Detrol, Enablex, Toviaz, Vesicare, Sanctura, Myrbetriq, and Gemtesa, are used when you have a spastic bladder.
If you have an overactive bladder, you may be prescribed one of the following medications: Flomax, Uroxatral, Cardura, Rapaflo which will help urine flow through the sphincter muscle. There are also some antispastic drugs, like Lioresal, baclofen or Zanaflex which also relax the same muscle. Botox injections can also be used to help with an overactive bladder.
Some non-medication treatments for MSers with bladder problems, including bladder training, dietary changes such as limiting caffeine, orange juice, and alcoholic beverages, and begin drinking cranberry juice which helps reduce bacteria formation.
Surgery for Bladder Control Problems
There are a few surgical solutions that may help as well. Usually these are used mainly as a last resort when all other options have not worked. An InterStim device may be placed just under the skin to stimulate the sacral nerves and will also treat an overactive bladder.
Some MSers will have this problem around the same time they are diagnosed with multiple sclerosis. An article on MS Focus, shares how 80-100% of MSers will experience bladder control problems within 10 years of developing multiple sclerosis. The main thing is that you talk to your doctor as soon as you begin having problems.
Even though it may be difficult or embarrassing to talk to about it, being able to manage or get treated for bladder problems, is important. The longer it takes to detect it, the worse it can become, including adding more issues than there were initially. Untreated infections can get out of hand, eventually causing sepsis in the body. 
Like Cir, if you can't empty, your bladder can become overly distended, which as you can imagine is not good either. So even if the symptoms are mild, try to get comfortable with talking to your doctor about this and more. The earlier you get it out there, the sooner you can deal with it. You may never need medication or surgery. One of the other less invasive treatments may solve the issue. 
Go from Part 3 back to Part 2 

Go from Part 3 to Multiple Sclerosis Symptoms 

---
Dear Friends,
"Life in Spite of MS is a participant in the Amazon Services LLC Associates Program, an affiliate advertising program designed to provide a means for sites to earn advertising fees by advertising and linking to Amazon.com. We're also part of the Ebay Partner Network, another affiliate program."
We'd also like you to know it doesn't cost one cent more  when you click through the links here on our blog. Not one single penny. And we will make a little extra cash when you do click through. We'll be ever so appreciative. You also have our word that we'll only link to things that we would use ourselves, (or wish we could have or use).
Sincerely,
Cir & Akrista
You are reading original content written by Akrista or Cir L'Bert of Life in Spite of MS. If you enjoyed reading this blog, please consider following us on Facebook, Twitter, Pinterest, and Instagram. See you there!
---
Privacy Policy ~ Advertising Policy ~ Disclaimer ~ Contact Us ~ About Us