---
Disclaimer: This page may contain affiliate links. We may earn a small commission for purchases made through links in this post, at no extra cost to you.

Acupuncture for Multiple Sclerosis
Acupuncture is an ancient Chinese medical treatment. It has been around for about 2,500 years. (It must be working for someone. What do you think?)
It became popular in the US after President Nixon visited China in 1972. This historical event lead to a curiosity about the Chinese culture. This included its' medicine practices.
No one knows exactly how and why it works. The theory is that our health depends on the flow of energy, or chi, throughout our body.
The Chinese believe that through needle stimulation, the flow of chi can be improved. Circulation will improve. The organs will function better. As a result the body will be able to stay healthy.
These findings haven't been studied scientifically. But anything that helps the body to work well is a plus for people with MS in my book.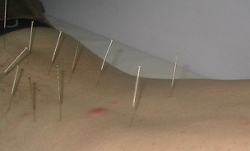 Research suggests that acupuncture can:
release endorphins in the brain

help with cell repair and renewal

regulate blood pressure (maybe I should try it

reduce inflammation

stimulate nervous system

block pain receptors


It may also help with symptom relief in people with MS. It is not a cure for multiple sclerosis, however. Traditionally, the Chinese would pay their acupuncturist to keep them healthy.

This therapy can possibly help relieve symptoms of MS like the following:
pain

numbness

anxiety

dizziness
There have been a few small studies where it has been helpful for people with MS. If you are brave enough and don't mind needles, then go for it. I can't see Cir ever suggesting a trip to the acupuncturist. He hates mosquitoes, so I doubt if long, skinny needles are anywhere in his future treatment.
Chinese or Japanese?
Here are a few differences between Chinese acupuncture and the way the Japanese practice it. This is by no means a complete list of the differences or types of techniques used.

Types
Needles
Insertion
Techniques
Japanese
Very fine
Painless, shallow or very light touch
Shinkan or guide tubes used (feel tube - not the needle)
Some individual techniques
Ippon hari
One Needle Acupuncture
Ryodoraku – Electrical stimulation of needles
Chinese
Slightly thicker, inserted by hand
Inserted until tingling, heat or dull aching sensation is felt (de qi)
Standard teaching and practice always adhered to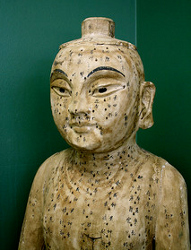 Western practitioners use a variety of techniques. These can include a mixture of Traditional Chinese and Japanese techniques. Westerners have developed new treatments also. One technique is called Trigger Point. Needles are inserted at certain points along the muscles. This technique is usually used to treat pain.
You need to do thorough research before scheduling your first appointment. Not only do you want to compare things like cost, but also safety practices. Call and find out what type of acupuncture they practice if it's not readily noticeable in their name or advertisement.

Make sure they use safe practices. Here in the US, acupuncturists have a one needle use police. This means they will dispose of needles after they use them.

If you don't like pain, Japanese techniques are subtle and gentle. They want their customers to come back. If Cir were to ever try this traditional Chinese medicine, this is the way he would probably go. As I said earlier, he is not a fan of needles.

Check out the video below. It talks about the basics of this therapy and what you might expect at your first session.
Go from Acupuncture to Alternative Treatments for Multiple Sclerosis.

---
Dear Friends,
"Life in Spite of MS is a participant in the Amazon Services LLC Associates Program, an affiliate advertising program designed to provide a means for sites to earn advertising fees by advertising and linking to Amazon.com. We're also part of the Ebay Partner Network, another affiliate program."
We'd also like you to know it doesn't cost one cent more  when you click through the links here on our blog. Not one single penny. And we will make a little extra cash when you do click through. We'll be ever so appreciative. You also have our word that we'll only link to things that we would use ourselves, (or wish we could have or use).
Sincerely,
Cir & Akrista
You are reading original content written by Akrista or Cir L'Bert of Life in Spite of MS. If you enjoyed reading this blog, please consider following us on Facebook, Twitter, Pinterest, and Instagram. See you there!
---
Privacy Policy ~ Advertising Policy ~ Disclaimer ~ Contact Us ~ About Us