---
Disclaimer: This page may contain affiliate links. We may earn a small commission for purchases made through links in this post, at no extra cost to you.

Accessible Kitchens
If you love to cook, an accessible kitchen is a must for you if you use a wheelchair. Even if you don't use one all the time, but would like to sit when you are fatigued or want to conserve your energy. Cir is not much of a cooker, but he does have his jobs that only he does.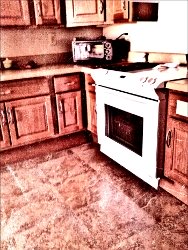 He is the designated "turkey carver" on Thanksgiving Day. He also carves the chickens when I cook them whole. Another job which he hadn't done in awhile is scaling fish which one of our neighbors so generously shared with us. 
When doing these jobs, he needs to be able to get up close to the counter. And of course, the kitchen counter needs to be at the right height. For a standing person, the counter is a little higher, but if you are sitting in a wheelchair or on a rollator or walker with a seat, you need a lower height to work comfortably.
Our entire apartment is ADA compliant, so the counters in the kitchen are low. I had to get used to this when we first moved in. My back gets tired when I'm washing dishes - thank goodness for dishwashers. When chopping vegetables and doing other meal prep, it's not so bad. 
In fact, I prefer the lower counters for meal prep because my arms are a tad long :) Another perk to having lower counters, is that they are just the right height for eating at with a bar stool. Our kitchen actually has a wrap around counter with a bar on the other side - perfect!
Accessible kitchen cabinets
Another thing that I like in our kitchen are the lower cabinets. There are pros and cons to this as well. For someone sitting in a wheelchair, it's easier to reach things. And for me that's a perk. I also have storage space on top of the cabinets for things I don't use very often or that are purely decorative.
The con for lower cabinets is that you need to make sure your appliances will fit beneath them. We had to measure the space to make sure the microwave we were going to purchase would fit. Also, we keep the bottom of our Vitamix blender on the counter, and the pitcher in a cabinet underneath. The mixer just barely fits, so that worked.
There is also space for his feet when sitting in his wheelchair, beneath the lower cabinets. These little touches make a kitchen much more accessible for someone in a chair even when they don't cook all the time. You will inevitably need to get a glass of water, fix yourself a snack, or a cup of tea. Being able to get around easily, will make the difference between being independent or having to ask for everything when you would rather get it yourself.
As I mentioned earlier, Cir doesn't cook much, however, I make sure the snacks are in one of the lower cabinet where he can find them easily. (Or put the ones I don't want him to find in a higher cabinet. Sometimes that works, sometimes not, lol.)
Accessible appliances
When it comes to appliances, you don't always think about the need for specialty types. When you do think about it, though, it's obvious. The stove has the knobs in front instead of in the back. That way, you won't get burned trying to reach over hot coils or fire in the case of a gas stove.
The switch for the fan and light is also placed lower on the counter instead of on the hood of the stove. I never thought of that one until we moved in to an ADA apartment several years ago. The stove is also a ceramic cooktop, which I suppose would make it easier to clean. You don't need to try and lift it in order to clean under it. I'm sure that would be a pain.
The refrigerator is a side by side, another obvious one if you think about it. The freezer is not on the top, making it easy to access. The sink also has an open space underneath so that Cir can roll under it with his wheelchair to wash a dish if he's so inclined...
The dishwasher in our kitchen is also lifted off the floor with a tiny space for underneath. The stove also has a small space beneath it. This is so that when turning them on or off, a wheelchair will be able to get up close to work the knobs.
Flooring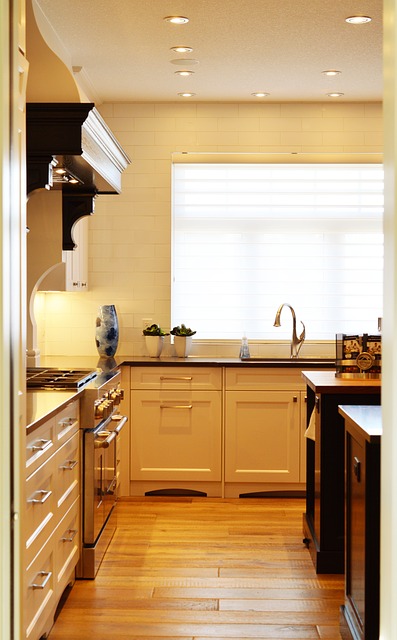 Flooring is also a matter to be considered in an accessible kitchen. Tile or other flat, easy to clean floor covering is a must. I suppose this is a given, however, I no longer use throw rugs in front of the stove or sink for decor or comfort. There are no rugs anywhere in the house accept for the bathroom by the shower and one at the front door. 
Unfortunately rugs are a safety hazard for someone who has foot drop or who can't always lift their feet up off the ground when walking. I learned this many years ago and got rid of all my little throw rugs. I love the look of hardwood floors and a pretty tile is nice as well. Also, they're both simple and easy to keep clean.
Outlets in an accessible kitchen
The other thing I noticed when we moved in to this apartment, was the many outlets and the height of the outlets. These are all slightly lower so that someone in a wheelchair can reach them without help.
They are also, what I call, soft touch switches. You only need tap them to turn the lights on and off. You don't need to try and grab the tiny little lever on a regular light switch, especially if your hands or fingers don't work well. So far this is not a problem for Cir.
It is easier to bump a light switch on or off without always having to get up. He can use a grabber or back scratcher to reach a switch from his chair. 
Your accessible kitchen
Whether you need a kitchen that is accessible now, it's something to think about when you need to upgrade or build. If you are building, talk to your contractor about making doors wide enough, cabinets low enough, space beneath cabinets and appliances.
If you want to upgrade your current living space, these are things to think about. That way if you ever need them, you won't need to start over from scratch. Talk with your contractor. They will have all the specific heights and dimensions required in order to make your kitchen ADA compliant. And ultimately to make it fit your needs, now and in the future.
Technology wishlist
If you can afford technology such as a computer system that runs your house, then go for it. Things like voice activated blinds, thermostat, lights, and coffee makers, can be a big help, especially if you live alone. There are many systems that don't seem to be very expensive to set up either.
If it every came down to a point where I couldn't get around as well, we will definitely look into something like this. Here are a few videos which show what's in store for those who need accessible kitchens now and in the future.
Accessible kitchen videos
Go from Accessible Kitchen back to Living with MS - Housing Issues.
---
Dear Friends,
"Life in Spite of MS is a participant in the Amazon Services LLC Associates Program, an affiliate advertising program designed to provide a means for sites to earn advertising fees by advertising and linking to Amazon.com. We're also part of the Ebay Partner Network, another affiliate program."
We'd also like you to know it doesn't cost one cent more  when you click through the links here on our blog. Not one single penny. And we will make a little extra cash when you do click through. We'll be ever so appreciative. You also have our word that we'll only link to things that we would use ourselves, (or wish we could have or use).
Sincerely,
Cir & Akrista
You are reading original content written by Akrista or Cir L'Bert of Life in Spite of MS. If you enjoyed reading this blog, please consider following us on Facebook, Twitter, Pinterest, and Instagram. See you there!
---
Privacy Policy ~ Advertising Policy ~ Disclaimer ~ Contact Us ~ About Us