Rise Above
by Astrid
(Cypress Tx, USA)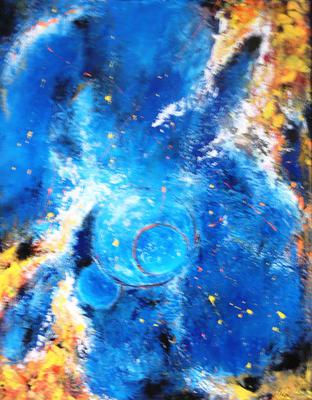 The Fire from Within I
I always loved to paint but never pursued it. I just dabbled here and there throughout the years.

I was diagnosed with MS in 2003 and it was manageable till March 2013. At the end of 2012 I decided to pick up my love of painting more than ever. Due to extreme stress from work, I needed some mental relief and that relief was through painting.

March 2013 the Wednesday before Good Friday, I collapsed. Everything was affected in my body. I was paralyzed, I couldn't walk, move my right arm or hand. MRIs showed various new lesions some as big as tumors.

Now it is 2015, 2 years later, and I still experience body and muscle fatigue everyday, my right hand and leg are still weak and in pain, my memory is not as sharp and is becoming more and more obvious, but the option of giving up didn't exist and never will. I was always a strong and independent woman and that never will change.

I am now able to drive a few miles and I was able to re-teach my left-hand to paint. Honestly, I am not sure, which was harder. But as the saying goes, if one door closes another will open. Being able to pursue my artistic passion after all that I went through and all that I am still going through each and every day is to me the greatest gift of all.

Painting is my therapy, my outlet, my inner savior and I want to share it with others. Through painting I can express my deepest feelings, it relaxes me mentally and spiritually in so many ways I can not describe.

Ever since the 2013 relapse, I experience days and weeks of depression, anxiety of the unknown and that is the hardest part, as it can happen at anytime, any minute. But these thoughts wash away as soon as I pick up that brush and paint away.