---
Disclaimer: This page may contain affiliate links. We may earn a small commission for purchases made through links in this post, at no extra cost to you.

Montel Williams Recipes

Here are a few more of our favorite Montel Williams Recipes. We've already added Montel's Green Smoothie, now we'd like to share a few more recipes we've found.
We love ginger ale, and although there is a brand which claims to use "real ginger", we can hardly compare it to this recipe. This one is much more healthy and it's delicious, too!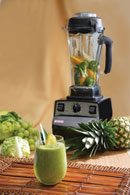 Montel's Ginger Ale
(This is made using the Living Well HealthMaster. We used our Vita-Mix. If you have a regular blender, you will need to follow the directions for preparing and juicing your fruit).
1/2 cup of seltzer
1/2 inch piece ginger, peeled
1 lime
1/2 lemon
3 Tbsp. Honey
1 cup ice
Add all ingredients to the Healthmaster. Secure the lid. Turn the speed control to 1 (low). Turn on the machine. Increase the speed to 8 (high) until blended. Serve with a orange slice. and Montel's HealthMaster have a tamper to help push fruit into the blades. (Use this as needed to assist in the blending process).
For more info about Montel Williams newest products, you can go to
Montel's site
. (Clicking link will open a new window).



All-Green Juice


Makes 1-2 Servings
Ingredients:
2 cucumbers
2 celery stalks
2 green chard leaves
2 kale leaves
2 green apples
2 small limes, peeled
Procedure:
Pass all ingredients through a juicer and serve immediately. All-green juice can be refrigerated for two to three days. The extracted pulp can be refrigerated for up to one day to add flavor to and thicken soups, meat loaf, casseroles or in vinaigrettes.
"Another thing I like to do with pulp is put it in a bowl, add a little water just hot enough to make it blend together, and then let it cool down and eat it like cold Italian soup," Montel says. "You can fire up a bowl for a quick breakfast, and you're out the door!"
The following of Montel Williams Recipes doesn't use a Vita-mix or Montel's HealthMaster. I'm sure he included it because it's just plain old healthy and delicious. We eat fish at 2-3 times a week. This recipe fits right into our menu.



Spicy Baked Fish with Herbs


Serves 4
Ingredients:
• Cooking oil spray
• 1 pound salmon (or other fish) fillet
• 1 tablespoon extra-virgin olive oil
• 1 teaspoon spicy seasoning, salt free
• Herbs of your choice
Procedure:
Preheat oven to 350°F. Spray a casserole dish with cooking oil spray. Wash and dry fish, then place in a dish. Mix oil and seasoning and drizzle over fish. Bake uncovered for 15 minutes or until fish flakes with a fork. Garnish with fresh herbs. Cut into four pieces. Serve with rice.
I'm sure you will enjoy Montel Williams recipes as much as we have.
Were you looking for Montel's Green Smoothie Recipe? Click here.
Go from Montel Williams Recipes back to Montel Williams 
---
Dear Friends,
"Life in Spite of MS is a participant in the Amazon Services LLC Associates Program, an affiliate advertising program designed to provide a means for sites to earn advertising fees by advertising and linking to Amazon.com. We're also part of the Ebay Partner Network, another affiliate program."
We'd also like you to know it doesn't cost one cent more  when you click through the links here on our blog. Not one single penny. And we will make a little extra cash when you do click through. We'll be ever so appreciative. You also have our word that we'll only link to things that we would use ourselves, (or wish we could have or use).
Sincerely,
Cir & Akrista
You are reading original content written by Akrista or Cir L'Bert of Life in Spite of MS. If you enjoyed reading this blog, please consider following us on Facebook, Twitter, Pinterest, and Instagram. See you there!
---
Privacy Policy ~ Advertising Policy ~ Disclaimer ~ Contact Us ~ About Us