---
Disclaimer: This page may contain affiliate links. We may earn a small commission for purchases made through links in this post, at no extra cost to you.

Fampridine
| | |
| --- | --- |
| Fampridine, is an oral medication used to treat MS. It is also known by several different names - Fampridine-SR, 4-aminopyridine, or 4-AP for short. It is prescribed to treat symptoms of multiple sclerosis by compensating for nerves that don't work as well. The generic name for this drug is 4-aminopyridine, or 4-AP. | |
The company that makes it, Acorda Therapeutics, is in Hawthorne, New York. They feel that it is a very promising treatment since studies have all gone well. As a matter of fact, the company submitted a New Drug Application to the FDA, this year on January 30, 2009 for Fampridine SR – a sustained release formula of the drug.
Fampridine is a potassium channel blocker. It blocks the potassium channels in neurons. What this does is help improve the transmission of the nerve impulses along the axons. It has improved visual function, and motor skills. It also helps relieve fatigue.
It would be most effective for you if you have chronic progressive multiple sclerosis. Also, if you have had MS for more than three years or if you are sensitive to temperature changes, this drug would be beneficial.
Acorda is excited about the fact that this can be a big help for MSers with walking problems. Of the 400,000 t0 500,000 MSers in the US, 64 to 85% of these have some degree of walking disability.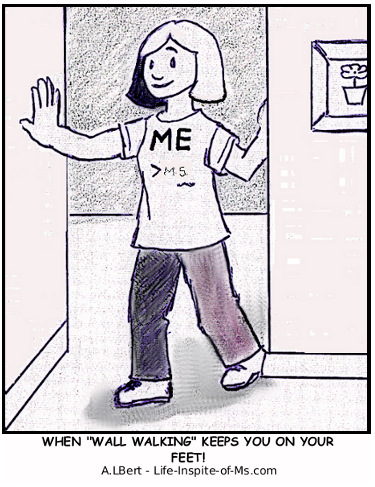 If you feel that walking is the most challenging symptom of your MS, then you're not alone. Most other MSers feel the same way, at least 70% of them do. Cir always says that if his right leg was at least able to walk as well as his left, he'd still be working.
He doesn't feel confident enough to just walk without a cane or mobility aide. He doesn't want to fall. Better to feel and be safe. Every once in a while he try it when I'm standing close by or he's close enough to a wall to catch himself.
If he had his wish though, he'd be one of the 30% of MSers who don't have a problem with walking. And I wouldn't feel so nervous leaving him at home alone. If there were something that helped him walk better, without detrimental side effects, I'm sure he'd give it a try.

Side Effects of fampridine
The most common side effects for 4-AP are those below. Adverse side effects only happen in less than 5% of cases in all the studies. So it is well tolerated by most people.
Dizziness
Nervousness
Nausea
About 29 to 80% of MSers respond positively to this drug. And 80 to 90% of those that took it, experienced some long term benefits. The benefits were mainly shown in the reduction of symptoms. It doesn't stop the progression of multiple sclerosis.
Can you overdose on this medication? Yes, there is a possibility. Overdose can lead to paresthesias, seizures, and atrial fibrillation. Scientific words - I know – click the links to find out what they mean if you don't know already. (Will update soon).
Acorda is actively working towards alleviating the problems associated with nervous system disorders.
About Acorda Therapeutic
About Acorda Therapeutic is a biotechnology company developing therapies for spinal cord injury, multiple sclerosis, and related nervous system disorders. The Company's marketed products include Zanaflex capsules (tyzanidine hydrochloride), a short-acting drug for the management of spasticity.
In June 2008, Acorda's lead clinical product, Fampridine-SR, completed a second Phase 3 clinical trial to evaluate its safety and efficacy in improving walking ability in people with MS. The Company's pipeline includes a number of products in development for the treatment, regeneration and repair of the spinal cord and brain.
Drugs.Com
Go back to Multiple Scleorsis Medicines

---
Dear Friends,
"Life in Spite of MS is a participant in the Amazon Services LLC Associates Program, an affiliate advertising program designed to provide a means for sites to earn advertising fees by advertising and linking to Amazon.com. We're also part of the Ebay Partner Network, another affiliate program."
We'd also like you to know it doesn't cost one cent more  when you click through the links here on our blog. Not one single penny. And we will make a little extra cash when you do click through. We'll be ever so appreciative. You also have our word that we'll only link to things that we would use ourselves, (or wish we could have or use).
Sincerely,
Cir & Akrista
You are reading original content written by Akrista or Cir L'Bert of Life in Spite of MS. If you enjoyed reading this blog, please consider following us on Facebook, Twitter, Pinterest, and Instagram. See you there!
---
Privacy Policy ~ Advertising Policy ~ Disclaimer ~ Contact Us ~ About Us