Clonus
| | |
| --- | --- |
| Are you a horror film enthusiast? Do you remember the movie "Parts - The Clonus Horror"? It's a sci-fi movie made in 1979. In the movie, clones are bred to be a source of replacement organs for people who were wealthy. Thank goodness this has nothing to do with what actually happens in the lives of MSers. | |
Greek meaning
The word comes from the Greek word for "violent, confused motion". It is a series of involuntary muscular contractions caused by a sudden stretching of the muscle. Neurologists know it as a sign of certain neurological conditions, one being MS.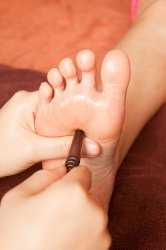 This particular symptom shows that there is upper motor neuron lesions. These type of lesions happen in conditions like stroke, multiple sclerosis, and spinal cord damage. This symptom causes large motions in the muscle involved. And these are usually started by some type of reflex.

Most common in feet
The most common place to see this symptom is in the foot and ankle. Neurologists test for this by quickly flexing the foot upward. This is called dorsiflexion. This same symptom can also be found in the knees.
To test for it there, your doctor will push the patella towards the toes. If there are five beats or more, then there is a possibility of one of the neurological conditions talked about above. It can also be found in the wrist.
There are certain types of drugs that can also cause this symptom to appear. These are serotonergic drugs. If it does appear, you will almost inevitably develop serotonin syndrome or a serotonin toxicity.
Hopefully this post has shed a little light on exactly what you can expect if your doctor tests you for this particular symptom. It's a weird little thing, however, it can let the the doctor know right off the bat, that there are neurological issues like I mentioned earlier.
Clonus video
And just for fun, here's a quirky version of the movie we mentioned at the beginning. If you like horror movies, older ones especially, then you may like this movie. (I won't feel bad if you don't - but enjoy it if you do.) ;)
Go back to Multiple Sclerosis Symptoms
Privacy Policy ~ Advertising Policy ~ Disclaimer ~ Contact Us ~ About Us