---
Disclaimer: This page may contain affiliate links. We may earn a small commission for purchases made through links in this post, at no extra cost to you.

Advanced Multiple Sclerosis
Advanced Multiple Sclerosis is not a common occurrence for people with MS. However it does happen. It refers to the point that their MS has progressed so much that they can no longer care for themselves on their own. They are not able to move on their own. They are mostly home-bound and cannot be left alone for long periods without an aid or caregiver. They have a lot of things going on as far as their health.
What type of things?
As mentioned earlier, mobility is going to be very limited. They will probably need help transferring from chair to bed, or from chair to bath. Each of their daily activities can be affected at this point. They will need help with things like brushing their teeth and combing their hair at this advanced stage of MS. Their immobility can cause more pain as well as things like pressure sores from sitting or lying down for long periods.

It may be difficult for them to communicate their needs because of speech problems and cognitive issues. This can be a very frustrating time for both the person with MS and their caregiver. If MS has affected their swallowing, then eating may be difficult, as well. And then there are bladder and bowel problems that may have become worse, making it necessary for an aide to tend to catheterization and bowel incontinence issues.
An increased susceptibility to infections is a big possibility during advanced multiple sclerosis. At this point, caregivers and aides are so important to the well-being of the person with MS. According to the NMSS (National MS Society)
"...remember that infections can be extremely serious, even life-threatening, in advanced MS. Fever and/or a significant increase in symptoms like spasticity, pain, swallowing problems or vision changes are frequently signs of infection. It is critical that, whenever you suspect and infection, you reach out for immediate medical attention and prompt treatment." Guidebook Caring for Loved Ones with Advanced MS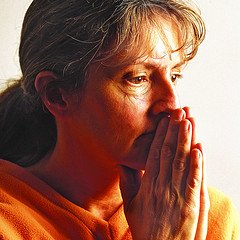 Caregiver Anxiety
Infections
Cir has had a couple of close calls with infections and he is not even close to having an advanced form of multiple sclerosis. His neurologist advised us to call for treatment at the very first sign of an infection, even if they had to adjust the medication after testing urine or blood samples later. Sometimes a fever or other sign turns out to be minor, but you don't want to take any chances, especially if MS has advanced.

Another important point of this type of MS is the health of the caregiver. You may say that it's all about the person with MS, however, the spouse or other relative who is caring for them needs to be healthy as well. If the caregiver is not taking care of themselves, they will not be able to provide adequate care to their loved one. Just think about it, if you as a caregiver are always stressed out, how can you give continuous, round the clock care, to the person who needs you most? Take advantage of respite care as well as home health care services. Respite care is aimed at the caregiver while home health care is for the patient.
A Care Book
Another thing to do as a caregiver is to make up a "Care Book" that includes all important information about your loved one's needs. This will make it easy for if and when you have to be away for respite care or for the home health aide, nurse, or other healthcare worker who comes into the home. Information about how to do this can also be found in the guide mentioned above.
What other types of things can you expect with advanced multiple sclerosis? If you haven't already done so, anticipating the needs of someone with severe health limits, is best done before those needs arise. Having an accessible home or apartment with ramps, grab bars, wide hallways, and whatever else is needed, is a good thing to plan for before anything happens. We are in an accessible apartment building now and although everything isn't perfect, it is acceptable.
If Advanced Multiple Sclerosis happens...
Take inventory of your home and decide if it would work for you if the unthinkable were to happen. If not, plan to make changes now or begin searching for a place that will meet your needs. As I mentioned at the beginning of this page – advanced multiple sclerosis is not common, however, it's better to hope for the best and plan for the worst.
There are so many variables when it comes to advanced MS. Whether you are the person with MS dealing with the frustration of living with the disease, or the caregiver taking care of a loved one with this condition. Either way, it's a difficult and challenging journey, but one that many have lived through. The decisions and choices you make will be unique to your situation. Talk about them, plan as much as you can, and then love each other and work through the rest.
Go from Advanced Multiple Sclerosis to Types of MS.
---
Dear Friends,
"Life in Spite of MS is a participant in the Amazon Services LLC Associates Program, an affiliate advertising program designed to provide a means for sites to earn advertising fees by advertising and linking to Amazon.com. We're also part of the Ebay Partner Network, another affiliate program."
We'd also like you to know it doesn't cost one cent more  when you click through the links here on our blog. Not one single penny. And we will make a little extra cash when you do click through. We'll be ever so appreciative. You also have our word that we'll only link to things that we would use ourselves, (or wish we could have or use).
Sincerely,
Cir & Akrista
You are reading original content written by Akrista or Cir L'Bert of Life in Spite of MS. If you enjoyed reading this blog, please consider following us on Facebook, Twitter, Pinterest, and Instagram. See you there!
---
Privacy Policy ~ Advertising Policy ~ Disclaimer ~ Contact Us ~ About Us