About SBI! or Solo Build It!
The Best Website Builder on the Web
At least we think so... What's so special about SBI anyway?


Same Ol' Thing or Best Choice? What About SBI?
There are many ways out there to build a website, but we think the best way to build a life-changing business is with Solo Build It! How do we know? Because we're doing it now. And so are many others.

If you want to read the story of why we eventually chose SBI, click here. Then come back and learn more about how it is changing our lives and the lives of others here in videos or here for actual case studies. You need to know about this and who better to learn about it than from someone you know.
Sure we can say you need to purchase this site from us, and hopefully, if you decide that this is what you've been looking for, you will. But what exactly is in it for you?
Have you been looking for a business that you can work from home? Are you a , stay-at-home-mom or a retiree? Are you a student or someone with a not so positive outlook at your present job who wants a change of career?
Even if you answered yes to one of the above questions, SBI may not be for you. Do you have time to devote to your dream of owning your own online business? Time to learn a simple but proven system of building it step by step?
Do you have something in your life that you love and are passionate about? Is this something you love to talk to others about? Does a significant part of your life deal with this passion?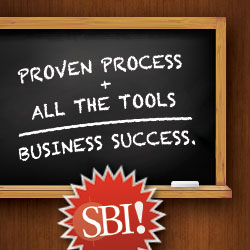 Passion is Your Most Valuable Asset
If you can talk about your passion, you can write about it as well. And if you can write about it, you can build a website about it. And this website can earn you money.
You don't need to be an excellent writer. You just need to love what you write about. You need to sit down on the most comfortable sofa in your minds living room and talk to your friend. Tell your friend everything you know about this thing that you are passionate about.
Of course you may not know everything about it, but you do have the greatest resource at your fingertips – the internet. You can use it to fill in the gaps along the way if there are any.
Another special thing about SBI is the 2.0 part. Your visitors can help you build your website. Because if you talk to your visitors about your passion and they are passionate about the same thing, they will want to share this with you and ultimately other visitors.
Your site will be the go to site for your special niche. In turn this will attract more and more visitors who love your niche as much as you do. That is what is so special about SBI. That is what it has done for us. We have many visitors who care about the same thing we do. They visit our site and they tell their friends who tell their friends who tell.....
Well you get the picture. We, however, would have never been able to build such a quality site if we hadn't found out about SBI. We've had websites in the past. One cost us $1,000 and the other was a free blog.
Neither of them produced the income we now have as a result of our SBI website. Now we're not saying you can't make money with a $1,000 e-commerce website or even with a free blog. We're just saying we didn't.
Whether it was from simply not knowing how or not doing enough. We just couldn't get it right. But now with SBI we have and we wouldn't even consider trying to do it any other way. We loved our first website so much that we started another one. And we have plans for a few more. So you can see – something must be going right.
The question for you to answer now is:
"Which SBI! do I want?"
2 SBI!s for the price of one (only during the Christmas season).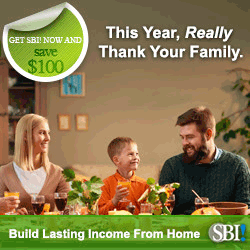 -OR-

Your Options
The first option is a special that happens only once a year around Christmas. It has been extended to January 4, 2012. If it is after midnight on the 4th of January then you can buy one SBI! site for $299 as the first option.
The second option is one I wish had been around when we purchased our first site. Because of the hard economic times we're going through, you can purchase a website for only $29.99 a month. How cool is that? You get all the benefits of a $299 website for a smaller more manageable monthly payment.
Of course if you want two websites (for you and a family member or friend maybe?), choose option 1. But if you just want to get started with 1 site at a more manageable price, choose option 2. After January 4, 2012, option 1 will be 1 website. So hurry to take advantage of the BOGO offer before midnight.
And another thing about Solo Build It! is if you find that it is not for you, they also have a money back guarantee. So you have nothing to lose (and maybe everything to gain). You decide.
If you still have questions and would like to talk to someone first, click here. They will be happy to answer any concerns you may have about SBI. Hey, we did and we were very happy with the response we received.
If you'd like to see other websites and learn more about SBI, click here.
Go from About SBI to About Us.

Privacy Policy ~ Advertising Policy ~ Disclaimer ~ Contact Us ~ About Us