Hi!


Welcome to the second issue of The MS Experience,
our Life in Spite of MS Newsletter. We are pleased to be able to bring you special tips, recipes, and more that will help you in your everyday life.

Each issue will also be archived on the website if you'd like to read it again. You can also share these archived issues with others you think would benefit from them.

In this issue, we are including a recipe as well as tips for making life easier in the kitchen.

In this issue we have included the very first Cartoon of the Month! It is so important to laugh, especially at yourself. We do this on a daily basis. It's one of the reasons Cir has such a positive attitude about life. Laughing also helps to relieve stress which is not a good thing for MSers.

In our future issues we hope to include a short Video of the Month and possibly an Exercise of the Month for you to work on. If someone shared this newsletter with you, be sure to subscribe now so you won't miss a single issue.

Grab a cup of your favorite beverage. Go ahead, we'll wait. Have a seat, relax and enjoy!



---

One of my daughter's favorite meals is spaghetti. And not just for dinner, but for breakfast the day after. Now you're probably wondering, spaghetti for breakfast? That's a bit odd.

Well she does eat spaghetti for breakfast, but not the way you think. She makes an omelet, and for the filling, adds a couple tablespoons of spaghetti sauce, some grated cheese and voila! An Italian omelet! Well, kind of.

That's it. This recipe doesn't really have an ingredient list or special instructions. Just 2 beaten eggs, you favorite leftover spaghetti sauce and grated cheese. And of course, a little oil or butter for the pan.

My recipe for spaghetti sauce is really simple. And it all depends on how much I want to make. It's included below. To make it a little easier, use frozen chopped onions and green peppers. Or you can always get a family member to chop the onions and peppers when your hands are numb or you are experiencing weakness or fatigue.
Akrista's Spaghetti Sauce

SERVES 6 - 8
1 pound of ground turkey, chicken, or beef
1 cup of chopped onions
1 cup of chopped green peppers
1 can of low-salt or salt free diced tomatoes
3 small cans of tomato paste
1 cup water
1 tsp basil
2 tsp Italian seasoning
1/8 to ¼ cup brown sugar
1 T chili powder or paprika* (optional)
1 – 2 bouillon cubes (optional)
2 T extra virgin olive oil

Pour olive oil in skillet (if using beef, you don't need the oil). Brown turkey, chicken or beef, in a large skillet along with onions and green peppers. (Drain fat if you used beef.)

*This is also when I usually add the chili powder or paprika. I like it just a tad bit spicy. If this is not your taste, add the paprika. The reason why I started adding the paprika was actually to trick kids into thinking they were eating beef – and Cir too. (Don't tell him, though).

They don't mind so much now. It was during a healthy eating phase a few years back, which became a lifestyle change. Now when we want beef, we buy grass-fed and organic. It's usually very lean.

Okay, back to the recipe. This is supposed to be quick and easy. Add everything else. Season to taste. Simmer for about 15 minutes. There you go.

If I'm not in a cooking mood, I double the recipe so we can have lots of leftovers. I also like a thick sauce, so if you would like it thinner, either omit one of the tomato pastes or use more water.

Refrigerate leftovers for lunch, dinner, or breakfast the next day.
---

I thought I'd add another dump recipe for chicken. It's a"Fast Food" recipe that makes dinner so quick and easy. I love these and they always taste so good. This is another one from my favorite site, RecipeZaar.
---
Sweet Salsa Dump Chicken

37 min./7 min. prep.

1 (1 ¼ ounce) package taco seasoning mix
8 ounces apricot jam
12 ounces salsa
1 ½ lbs chicken pieces (4-6 pieces)

For immediate cooking: Pre-heat oven to 350°F Place all ingredients into a large baking dish, turn chicken to coat.

Bake until chicken juices run clear (45-60 minutes for chicken pieces, or 20-30 minutes for chicken breasts).

For freezing: Place all ingredients into a 1 Gallon freezer bag.

Lay flat in freezer.

To thaw and cook: Take the bag out of the freezer the night before, make sure the baggie is completely closed.

Place the Bag on a refrigerator shelf to thaw.

Preheat the oven to 350°F Empty the contents of the bag into a large baking dish and bake until the juices run clear (45-60 minutes for chicken pieces, or 20-30 minutes for chicken breasts).
---

I think we're all guilty of putting off things till later. Not just daily tasks, but our dreams. If money and time are not an object, go ahead and plan some of those dreams.

If money is an determining factor, what have you been meaning to do that doesn't cost anything? Have lunch with your dad? Play a musical instrument? Plant a garden?

The following quote hits home for me. Maybe it will for you, as well.


Inspirational Quote
"One of the most tragic things I know about human nature is that all of us tend to put off living. We are all dreaming of some magical rose garden over the horizon - instead of enjoying the roses blooming outside our windows today."

~ Dale Carnegie ~
---

The Tip of the Month kind of goes along with the Quote of the Month in a way.

This months tip is – Maintain your work, hobbies, and outside interest as much and as long as possible.

When you are diagnosed with something as unpredictable as MS, it's very easy to just throw in the towel, so to speak. Especially when you are newly diagnosed, it's so easy to let your anger and resentment cause you to feel sorry for yourself.

Cir went through these feelings when MS caused him to stop working. Some of the medications he was prescribed also caused mood swings, depression and at times even suicidal tendencies.

So we realize that there are times when negative feelings are not always your fault. It's important to recognize when the feelings started and why you are having them. If you've started an new medication talk to your doctor immediately.

Otherwise, if you have become isolated as a result of self-pity or anger at why you were the one to develop MS, try and shake it off. It's not easy. It wasn't easy for Cir. It took a long time to realize that he wasn't specifically singled out.

Get back into your hobbies, if you've stopped. Or don't stop if you still do them. Pursue your interests. Even if they mean, getting up, getting dressed, and going outside of your temporary comfort zone.

If you need to use a cane or walker, use it. Cir and I see so many when we go out nowadays, you'd hardly be thought of as different or unusual. Electric scooters are become more and more visible as well.

Of course, you may feel awkward when you run into someone you know. This is only normal. Be honest with them, if you can. Or make up something until you feel comfortable sharing your diagnosis.

But by all means, get out and continue living. You owe it to yourself and your family.



---

This months book, is one that I read early when Cir was diagnosed with MS. I read parts to him and we laughed at the life experiences of Squiggy. His real name is David Lander, and he was part of the show "Laverne and Shirley".

I know I'm dating myself when I say I used to watch this show. But time waits for no one.

The book, "Fall Down Laughing: How Squiggy Caught Multiple Sclerosis and Didn't Tell Nobody",
is a hilarious and poignant account of Squiggy, or David's life. He tells how even during the show he had symptoms of multiple sclerosis.

He wasn't actually diagnosed until after the last show was filmed in 1983. He didn't tell the public about his MS until 1999. His strength and determination to continue doing what he loved, in spite of having multiple sclerosis are inspirational.

To us, he was a big reason we began to laugh at the symptoms Cir would have. And we still laugh today. Maybe not when the event is happening, but most times after the fact.

That leads us to the last section of the MS Experience.



---

Laughter is such a necessary part of life. Especially if you live daily with an unpredictable disease like MS. With a myriad of symptoms like, numbness, tingling, brain fog, and the like, there are bound to be instances that strike you as funny – after the fact.

I love to draw, but I must admit, I haven't drawn in quite awhile. But I think this little cartoon gets the point across. And if you can do better, by all means submit one to our new You Know You Have MS When... page. I promise, I won't be offended. Anyway, hope you enjoy it.

You Know You Have MS When...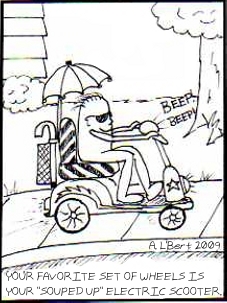 ---

We hope you enjoyed the second issue of The MS Experience. Share it with others who you feel may be interested or send them to The MS Experience to subscribe.

Hopefully we'll have our video ready for next month, so be sure to check out next months issue. See you then!