Hi there!


Welcome to issue no. 6 of The MS Experience,
our Life in Spite of MS Newsletter. As always, we are pleased to be able to bring you special tips, recipes, and more that will help you in your everyday life.

Each issue will also be archived on the website if you'd like to read it again. Plus you are also welcome to share these archived issues with your friends if you think would benefit from them.

We're are glad to be able to bring this issue to you. And guess what - we have a video! It's a welcome video which we will be adding to the home page in a bit. I must say it was a long time coming with a bit of a learning curve, but we finally did it. We do hope you enjoy it. We enjoyed making it.

This months cartoon is a cute one that deals with something many MSers can relate to at one time or another. Our 15 year old daughter, Nasya is an artist. She wants to be a freelance/concept/comic artist. Nasya took my idea and made it better. We know you'll enjoy it.

During the summer months, heat can be a real problem for MSers. We're adding recipes and tips to help you cool down and enjoy the sunshine. Slow down, relax and hey, it's a great time to "make vitamin D".

As always, you are welcome to share this newsletter with your friends and family. And if someone shared this newsletter with you, be sure to subscribe now so you won't miss out on a single upcoming issue.

So, grab a cup of your favorite beverage, (iced tea or lemonade, maybe?) Go ahead, we'll wait. Have a seat, get comfortable, relax, and enjoy!



---

You've waited long enough, so I'm not going to say another word. Let us know how you like it! Enjoy!
---

I wanted to mention again a book I found with great smoothies that are perfect for the summer weather. As I said in the last newsletter, we got our Vitamix in February. Almost everyday we enjoy making smoothies and whole fruit juices.

We've even tried our hand at making ice cream. That's going to take a bit more practice, though. We ended up with a milkshake this time. I'm sure by the end of summer, we'll get the hang of it. At least we'll have fun trying.

And as soon as we find a good popsicle mold, we'll be able to make "poppasicles" for our granddaughter.

I also mentioned in the last newsletter that Cir feels more energetic. We go out almost everyday, even if it's just a walk in the park around the canal right behind our apartment.

I also feel better. We are working very hard to get my blood pressure in the normal range. And we think the combination of exercise and whole fruit and veggie juices is helping.
---

The book - "The Ultimate Smoothie Book - 130 Delicious Recipes for Blender Drinks, Frozen Desserts, Shakes, and More" by Cherie Calbom. She's written several juicing and smoothie cookbooks as well as one on the benefits of adding coconut and coconut oil to your diet in the book "The Coconut Diet".

And now for a few of my favorite quick and easy summer recipes.
---

Summertime, summertime, sum... sum... summertime. Finally it's here! Warm weather, sunshine, watermelons, mangoes, salads and ice cold smoothies.

I love summertime. But I know it's not the best time for many MSers. There are several enjoyable ways to combat the heat of summer.

Pasta salads and fresh fruit smoothies, Popsicles, and ice cream cones are some of the ways to cool down when hot weather tries to get the best of you.

Last summer, BV (Before Vitamix), we loved eating fruit bars and frozen yogurt - a much healthier choice than Popsicles and ice cream. This summer, with Vitamix, we intend to take full advantage of our new machine.

Fresh fruit and veggie smoothies or "flower seeds" as our granddaughter calls them. We're going to have fruit ice cream and "flower seed" popsicles. Yum!

Our other favorite thing to eat during the summer are chef salads and pasta salads. They're quick and easy. Plus you don't have to turn on the oven. If you want to add meat, just pop a chicken breast in your portable grill or toaster oven, slice it or cube it, and Voila! You have a meal. And now for the recipes.
Easy Summer Pasta Salad

1 lb. box of your favorite pasta (rotini, penne, ziti, macaroni, bowties, etc.)
1 bag of your favorite frozen veggies (mixed, broccoli, broccoli-carrots-cauliflower mix, etc.)
1 cup each of red, yellow, and green bell peppers, red onions, celery, and tomatoes, all cut into bite-sized pieces
1 head or bag of your favorite salad greens (ice berg, romaine, bib, spinach, etc.)
1 bottle of your favorite salad dressing (ranch, French, thousand island, blue cheese, etc.)
1/2 jar sweet pickle relish (optional)
Cook pasta according to directions, drain and rinse with cold water. Pour into a large bowl
Cook frozen veggies till crisp tender, according to package directions. Drain, rinse in cool water. Pour into bowl with pasta.
Prepare other veggies and add to bowl
Add pickle relish and salad dressing
Mix everything together. Chill for a few hours if desired, before serving.
To serve, divide salad greens between three or four plates and top with pasta salad. Serve with toast points (Toast 3-4 slices of bread. Cut each slice diagonally, twice and arrange around each plate).
Enjoy!

And here's another Salad recipe for you!
Easy Summer Chef Salad

1/2 bag of spinach leaves
1 bag of your favorite salad greens
1/2 each of green, red, and yellow bell peppers, sliced
1 med. onion, sliced
2-3 tomatoes, sliced in wedges
One of the following, 2 grilled chicken breasts, sliced; slices of your favorite cold cuts; 2 cups of cooked chicken, turkey, roast beef, etc. cubed
2 med. carrots, grated
1 cup grated cheese (choose your favorite)
2 boiled eggs, cut in wedges
1 bottle of your favorite salad dressing

Divide greens between plates. Arrange vegetables in order listed. Top with cheese and sliced, boiled eggs. Serve with your favorite salad dressing and toasted whole grain bread.

Believe it or not, summertime has its cool nights. And occasionally a few cold days as well. This next recipe is a crockpot recipe, and I don't know about you, but I always like those.

Summertime is all about staying out of the kitchen as much as possible. What better way to do that then cooking in your crockpot. And Homemade Sloppy Joe's are the perfect meal.

I found this recipe in the book, The Complete Crockery Book by Wendy Louise. When this recipe is done, just leave it in the crockpot and serve! Salad or fruit and chips round out the meal.

(Or if you're feeling adventurous and it's not too hot, serve with Potato Wedges - these are made the same as Easy Potatoes in Issue #1. Just cut the potatoes into wedges instead of cubes).
And now for your recipe:
Crock Pot Sloppy Joe's

Serves 6

1 lb. lean ground beef (try to use grass-fed and finished beef whenever possible)
1 8 oz can tomato sauce
1 T Worcestershire sauce
1 green pepper, diced
1 yellow onion, diced
1 tsp salt
1/4 tsp pepper
1 tsp Italian dressing
1 tsp dried oregano
1 tsp dried sweet basil
1/2 tsp garlic powder

Brown meat, onion and green pepper in a skillet. Drain off excess fat in not using very lean or grass-fed beef. Transfer to crockpot.

Stir in tomato sauce, Worcestershire sauce, and all seasonings. Mix well. Cover with lid and simmer on low for 1-2 hours. (3-4 hours if tripling the recipe). Can hold indefinitely.

Cooks Note: To serve, scoop right out of the crockpot on to bread or buns. (Add pickles and chips and your done!)

(Excerpted from 365 Quick, Easy, and Inexpensive Dinner Menus - ISBN 1891400339 by Penny E. Stone).
---

"Summertime and the liven' is easy...." Well, at least Cir says it is for him and hopefully for you as well. You don't have to bother with coats and snow. So at least in that sense, it is, don't you think?

With spring and summer, the earth is green and the flowers are vibrant and beautiful. Just having them to look at, uplifts your spirit. And summertime makes going through the cold weather, all the more worthwhile, at least for me.

Here's the quote. Enjoy it!


Inspirational Quote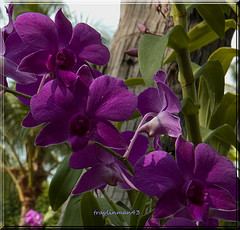 "A life without love is like a year without summer".
~ Swedish Proverb ~
Photo courtesy of Travlinman43
---

Many of the tips we added last month apply this month as well. It was all about pacing yourself. Taking your time. Tomorrow will basically take care of itself.

This month the focus is on staying cool during the summer months. I know when Cir has to rush to get somewhere, he gets overheated and that is, well, just not cool. He long ago decided that if something was that important, it could wait a few extra minutes.

Rather than rush around, get overheated, and feel miserable, he would just get up a little earlier and take his time. If that didn't work, he could always reschedule or postpone.

During the summer, getting overheated is even more of a problem because it's already warm. You're starting out at a disadvantage. So a few preparations will help make your day, whether inside or out, a little more enjoyable.

Have a Cool Drink

This is simple enough, but it really helps. When Cir is planning on going out, we usually bring a bottle of water along. If you can remember ahead of time, fill up your bottle and put it in the freezer (leave an inch or two of head space so the bottle won't break).

That way, even if you leave your bottle in the warm car, it will still be cool as the ice melts. Even having a bottle of water near as you go about your day at home is a good idea.

Cir needs to get plenty of water during the day because he self-caths. You probably sweat more during the summer, so you are going to lose more water from your body. Dehydration becomes more of an issue, so we both try to stay on top of the amount of water he drinks.

If it's too hot, stay in

I know, I know, it's beautiful out. And you're not a hermit. All I'm suggesting is that you be smart about it. If it's 90 degrees and you have an appointment with the eye doctor scheduled at high noon, it can probably wait.

If you can, summertime appointments and outings should probably be scheduled early in the morning or later in the day. That way you can take a siesta at noon or hang out somewhere where there's air conditioning.

Find products that keep you cool

I found several cooling (and one cool) products while searching the internet the other day. Some you may have heard of before, like a cooling vest. And some of them I wondered why hadn't someone thought of that before. Here are a few of the items I found.

Note: Any links will open in a new window.

Well hopefully these tips will help you to stay cool this summer - or at least get you started on the way. You'll be able to have fun and enjoy the weather without being miserable and ending up too weak or fatigued to do anything.

As my granddaughter would say - "think, think, think", and a little preparation doesn't hurt either.
---

This months book doesn't have a lot to do with keeping cool during the summer months. But I thought it was a good read. If you like to read, summer months are the perfect time to lay back on the sofa with a glass of iced tea or lemonade and lose yourself in a good book.

If you have problems with your eyesight, try it as an audio book. I love them. Cir does too. We've enjoyed many books we would otherwise probably not have read.

Blindsided by Richard M. Cohen, is a book I saw years ago, but never got around to reading. Richard is a former CBS News and CNN producer. As a journalist, writing is the way he keeps in touch with the world, sharing his experience of living with MS for over thirty years.

The preface lays the foundation for this honest, "reluctant" memoir. He sets the stage by telling us that "these pages are not about suffering. That would be tedious. This book is about surviving and flourishing, rising above fear and self-doubt and, of course, anger".

Seems that every emotion you can feel is covered here, from joy and love, to anger. He lays bare his heart and those of his wife and children, as we join them on their journey through the land of MS.

If you're looking for a good book to read, try this one. You won't be disappointed. I wasn't.
---

Here's my favorite part of the newsletter. I hope you enjoy it as well.

And before I forget, if you'd be interested in adding your poems about MS, check out this page - Poems about MS. There you can add your pictures, writing, whether it's poetry, short stories, advice, or just your thoughts about MS.

Here's this month's cartoon:

You Know You Have MS When...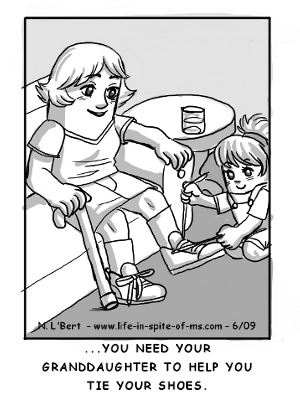 ---

We hope you enjoyed the 6th issue of The MS Experience. And again, you are welcome to share it with others who you feel may be interested or send them to The MS Experience to subscribe.

We hope to have more videos in the coming months, as well as a contest we're working on. Check back often and look for the newsletter toward the end of next month. See you then!