Welcome to the first issue of The MS Experience,
our Life in Spite of MS Newsletter. We are pleased to be able to bring you special tips, recipes, and more that will help you in your everyday life.

Each issue will also be archived on the website if you'd like to read it again. You can also share these archived issues with others you think would benefit from them.

In this issue, we are including two recipes as well as tips for making life easier. In future issues we plan on including a short Video of the Month and possibly an Exercise of the Month for you to work on.

We also know how important it is to laugh. Cir and I do this on a daily basis. We feel it is one of the reasons he has such a good attitude about life, and is able to cope with the daily challenges without becoming overly depressed.

For this reason, future issues will include a Cartoon of the Month. Laughter is the best medicine. So, if someone shared this newsletter with you, subscribe now so you won't miss the next issue.

Grab a cup of your favorite beverage. Go ahead, we'll wait. Now relax and enjoy!



Recipes of the Month

When time and energy are an issue, healthy, home cooked meals have a tendency to go right out the window. Even as a stay at home mom and caregiver, I find myself stretched a bit thin. As a result, I don't like to spend a lot of time planning and cooking meals.

I absolutely love the person who invented the crockpot, don't you? Well, you may not have a secret love affair with this person like I do. But you must admit, a crockpot is pretty cool. Not to mention a great time saver.

As a person with day to day limitations, you can appreciate anything that will save you time and conserve your energy. You can start your meal early in the day when you feel your best.

This recipe is so easy, even a child can get it started. Others have changed this into a "dump" recipe. What's a "dump" recipe? This is another great invention for time challenged cooks.

A "dump" recipe is very simple. You dump all the ingredients into a freezer bag. Label it and throw it in the freezer for later.

If you freeze it in the shape of the pan or in this case the crockpot – even better. It's very easy to take the recipe from the freezer, put it in the crockpot and turn it on.

Voila! A quick, easy, home cooked meal. Just cook rice or noodles. Rinse a bag of salad greens (or make your own), and dinner is served.
Crazy Chicken Recipe #154225

I'm not sure why this is called Crazy Chicken. It is so easy to put together. The sauce is really good served with rice or noodles. by Fluffy
6¼ hours | 10 min prep
SERVES 4 -6
6 boneless skinless chicken breasts
2 cups salsa
1 tablespoon honey
1 teaspoon cumin
1 teaspoon chili powder
½ tablespoon ketchup
½ tablespoon mustard
Place chicken in crockpot.
Mix remaining ingredients and pour over chicken.
Cover and cook on low for 6 to 8 hours.
Serve over rice or noodles.
I found this recipe at Recipezaar. Crazy-Chicken-154225
---

Here's another healthy "Fast Food" recipe that takes a bit of pre-preparation. Don't worry, this part is easy, too. On Life in Spite of MS, I talked about how much we love potatoes. I promised to share some ideas for the Quick and Easy Potatoes on the Multiple Sclerosis and Diet page.

If you haven't read the Multiple Sclerosis and Diet page, (and would like to), click here.
---

Now, I'm not much of a recipe writer, (everyone's always getting on me about this), but here goes.

PREP: In a large saucepan, add 4 – 5 unpeeled potatoes. Place so that they will all be covered when you add water. Add water to cover. You can rinse them first, if they're really dirty, otherwise, just add water.

Place over medium high heat. Bring to a boil. Boil for about 10 minutes. Don't over cook the potatoes. Knife should go in easily, but not too easily.

Remove from heat and rinse in cool water. That's it! Place in a bowl and set in refrigerator to use whenever you need them. Use within a week.
---

Okay, now for the recipe. As I said earlier, I'm not much of a recipe writer. I usually season with my favorite seasonings until it looks, smells, or tastes, "just right".

So, with that in mind, season these potatoes to your taste. Or at least realize, that each time I cook the potatoes, they have a slightly different taste depending on what I'm in the mood for. Meaning they can either be spicy or mild, or have a Middle Eastern or Italian flavor.
Quick and Easy Potatoes

2-3 pre-cooked potatoes
onion powder
garlic powder
basil
paprika
chili powder
extra virgin olive oil
(if you have a spice mix that you like, substitute it for mine).

Slice and cube potatoes into 1" cubes. Place in a medium sized bowl. Sprinkle seasonings on potatoes. Pour about 3-4 tablespoons over potatoes of olive oil over the potatoes.

Take another medium-sized bowl and place it over the top of the potato bowl. Gripping both sides of the bowl, gently shake and flip the potatoes inside.

Method #1: Remove top bowl and pour potatoes in a baking pan. You can line the pan with foil, this will eliminate clean up, but the potatoes may stick a little. Bake for about 10 minutes in a preheated 400 degree oven.

Method #2: Add a little olive oil to a large skillet that has been heated on the stove for a few minutes. Pour in the potatoes. Spread evenly. Cook, flipping over every once in a while, till done. Cooks in about 10 minutes.

Serving suggestion #1: Potato Salad: While potatoes are cooking on the stove or baking, open a bag of salad mix. Place in salad spinner or colander. Rinse and spin or drain. Divide mix equally on each plate. Top with potatoes. Serve with your favorite salad dressing.

If you like, add sliced or chopped tomatoes, sliced onions, sliced bell peppers, seedless cucumbers, etc. Whatever you like on your salad.

Serving suggestion #2: Potatoes on the side: Serve as a side dish for breakfast with eggs and toast. For dinner, serve with fish or chicken and veggies.

Serving suggestion #3: Potato Sandwich: Huh? Yes, it's really good. A little sloppy, but really good. Toast two slices of bread or grab a hoagie or sausage bun. A flat bread like lawash, or a soft tortilla would work as well. (Hot dog buns will do fine, also). Fill bun or bread with potatoes.

Top with your favorite toppings, onions, ketchup, mustard, or barbeque sauce. Top with other slice or roll up. This is definitely a sit down sandwich, so grab a bunch of napkins and enjoy!


---

I need some sunshine – don't you? If you live in northeast Ohio, you know what I mean.

Quote of the Month


Inspirational Quote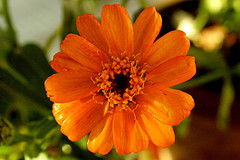 "Rise above the storm and you will find the sunshine."
~ Mario Fernandez ~
---
Tips of the Month and Book of the Month

This month both the Tip of the Month and the Book of the Month are included in the same section because they're closely related.

I recently found a little book – Multiple Sclerosis – 300 Tips for Making Life Easier by Shelly Peterman Schwarz. It contains many tips which Cir already does, but there were a few new ones that caused us to have a "light bulb" moment.

As someone living the past 30 years or so with MS, many of the tips he uses have come as a result of trial and error. But many of you are newly diagnosed and looking for answers.

So if the tips we present here are some that you have already figured out through your own trial and error, great! If not, then that's good also. You'll learn something that can possibly help you.

Anything that helps you conserve energy you have and use it more efficiently, will be included. Overall, simplicity will be stressed. The more you can simplify your life, the better.

In her book, Shelly states at the very beginning, three things that people with MS should keep in mind.
Alternate periods of activity with periods of rest
Plan ahead
Take advantage of labor-saving devices and technology

TIP #1: Pace yourself. This may seem obvious to some. But to someone who has just recently been diagnosed, it may not be. When you are used to living an active life, the thought of slowing down, can be frustrating.

Pacing yourself may mean limiting your activities to one or two a day. Or simply resting in between each activity instead of trying to do everything and then resting afterward. You will more than likely tire yourself out and end up feeling miserable for the next few days.

For instance, after a shopping trip, put away the perishables. Then sit for awhile with your legs up, before sorting out and putting away the rest of your purchases. Or better yet, let someone else do it.

On days when you have a doctors appointment, plan ahead by taking your shower or bath the night before. Lay out your clothes the night before.

The next day, you only need freshen up and get dressed. If you are used to spending an hour to get ready before leaving the house, now you may need two or three. This way you can pace yourself, and avoid having to rush.

When you don't have to rush, you eliminate the chance of tiring yourself out, before you even get started. Cir would rather cancel an appointment, instead of rushing to get ready. We've done this several times.

If you find that you haven't allocated enough time, reschedule your appointment. Learn from experience, how much you can do at any one time. Soon you'll know how many activities you can do in one day and will be able to plan accordingly.

TIP #2: Get the book! It's an excellent little book. It offers tips for making life easier in your home, for looking good, managing meals, medical issues, and traveling.

This is actually the revised second edition. Shelly also writes a column, "Making Life Easier", that appears in newspapers and magazines across the country.

Visit her website, Meeting Lifes Challenges to find out more about her.
We hope you enjoyed this issue of The MS Experience. Share it with others you feel may be interested or send them to The MS Experience to subscribe.

New features will be added next month, so be sure to read next months issue.