Hi there!


Welcome to issue no. 5 of The MS Experience,
our Life in Spite of MS Newsletter. As always, we are pleased to be able to bring you special tips, recipes, and more that will help you in your everyday life.

Each issue will also be archived on the website if you'd like to read it again. Plus you are also welcome to share these archived issues with your friends if you think would benefit from them.

We're a little late with this issue, but we are glad to be able to bring it to you. We are getting closer to bringing you videos which is one of the reasons I held back this issue while we tried to get one together. Next month for sure, so keep checking back.

This months cartoon is a fun one that deals with time. Did I say that laughter is the best medicine? Hmmm, I think I did. So I won't say it again. But as you all know, it's a great stress reliever.

During the summer months, it's so important to pace your self. Warmer weather tends to lead to fatigue, and pretty soon....you're back in bed or on the sofa with a cool drink or an ice pack. And you're wiped out for the rest of the day, or even longer.

That's okay. Rest. Pace yourself. It will make a big difference in how you feel by the end of the day. And ultimately, if you can make it to the end of the day.

As always, you are welcome to share this newsletter with your friends and family. And if someone shared this newsletter with you, be sure to subscribe now so you won't miss out on a single upcoming issue.

So, grab a cup of your favorite beverage. Go ahead, we'll wait. Have a seat, get comfortable, relax, and enjoy!



---

I recently found a great book full of healthy smoothies that are perfect for the upcoming summer weather. Since we got our Vitamix in February, we've been juicing almost everyday. We love the refreshing taste of real, whole fruit juices.

And when you are able to drink them right after they're made, your body is able to benefit from more of the vitamins and minerals. Fresh juicing has been good for Cir and our whole family.

He feels more energetic. The muscle tone in his legs is improving. His overall strength has also gotten better. And his fatigue level, although not totally gone, has definitely gone down.

I feel better as well. I've even lost weight, which is always a good thing, right? Cir has lost a few pounds as well, all without trying. Drinking healthy juices has caused us to be more quickly and fully satisfied. As a result we don't crave as many unhealthy foods.
---

The book - "The Ultimate Smoothie Book - 130 Delicious Recipes for Blender Drinks, Frozen Desserts, Shakes, and More" by Cherie Calbom. She's written several juicing and smoothie cookbooks as well as one on the benefits of adding coconut and coconut oil to your diet in the book "The Coconut Diet".

And now for a couple of my favorite recipes.
Stress Buster

Note: If I don't have all of the ingredients in the recipe, I will sometimes substitute what I have on hand. For best results, follow the recipe, but if you don't have everything, use what you do have. (They usually still taste really good).
---

Okay, now for the recipe. This is a delicious, light smoothie. Also, Cherie adds a little "nutrisip" to the beginning of each recipe. So here it is.

Nutrisip: Carrots provide magnesium (needed during times of stress, also a natural muscle relaxant), potassium (the need increases with stress, to support adrenal glands), and selenium (protects against infections). Chamomile is helpful for insomnia, anxiety, and digestive problems stemming from a nervous condition.

SERVES 2
6 chamomile herbal tea ice cubes
1/2 cup pineapple juice (about 1/4 pineapple, juiced)
1/2 cup fresh carrot juice (3 to 5 carrots juiced)
1 cup of fresh or frozen peaches, sliced

Directions

1 - Steep one chamomile herbal tea bag in a cup of hot water for about 20 minutes or until the tea is strong and flavorful.

2 - Pour tea into six ice cube tray squares and freeze*.

3 - Pour the pineapple and carrot juices into a blender and add the peaches and chamomile tea ice cubes.

4 - Blend on high speed until smooth and serve immediately.

*Here's a little tip for making herbal tea ice cubes for this recipe. Add a few tea bags - 2 or 3 - in about 2 cups of hot water. Steep for 20 minutes as the recipe says.

Allow to cool and pour into an ice cube tray. Freeze. Here's my tip - you can either leave them in the tray once they're frozen until you're ready to use them. Or empty them into a freezer bag and label.

Now you can make more! Try the Celestial Seasonings Zingers. They may great flavors to add to your smoothies.

"The Ultimate Smoothie Book" - Page 187
---

And here's the next recipe. This one is one we made up. It makes a great meal substitute. It's thick and filling, at least for me. It will usually last me till lunch or dinner.



Everyday Smoothie

Serves 3 (extra large glasses) or 4 (medium glasses)

2 bananas
2 carrots (scrubbed, then chopped into 1-inch pieces)
1 handful of spinach or other organic greens
1 orange
1 lemon
2 cups of orange juice
1 cup of frozen fruit (pineapple, mango, or tropical mix)
1 Tablespoon of brewers yeast (optional)

Directions:

Place all ingredients in your Vitamix* and blend for 45 seconds to 1 minute. Pour into glasses and drink immediately.

*If you don't have a Vitamix, blend according to your juicer or blenders instructions. You may need to juice or blend each fruit separately, then mix together.

For a summertime treat, fill a Popsicle container with the leftover juice and freeze for a nice cool treat later. We can't wait to have these for our little granddaughter during the soon to come warmer weather.

She already loves "flower seeds" (her name for juice made in our Vitamix). So we know she will love "flower seed popsicles". We just need to get to the store and find one of those little containers to make popsicles. Yummy!
---

To capture a moment in time with a camera is an achievement that allows us to always experience beauty whenever we wish. I love taking pictures (although I didn't take this one), and take them whenever I can.

I have some of my own in the editing process, so next month I'll have one of my own. In the mean time, enjoy this beautiful picture (you can find the author on Flickr) and quote about time.

I loved it. How about you?


Inspirational Quote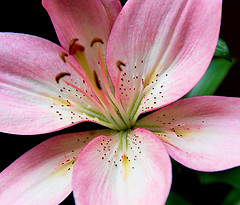 "If we take care of the moments, the years will take care of themselves".
~ Maria Edgeworth, O Magazine, April 2004 ~
---

Before we get to our tip, here's a helpful link. Summer is almost here which means school is almost out. If you need help planning things for your teens to do, try this report
. I hope it helps.

I have a teen and although she's learned to be pretty self-sufficient, there are times she needs me to step in and rescue her. Nasya and her dad have a pretty good relationship as well. They can spend hours conversing on just about any subject.
---

This months tip is: Learn to Pace Yourself.

This months tip - learn to pace yourself - is something every MSer needs to learn early on. My cousin, who has chronic fatigue syndrome, was a big help when fatigue began to be more and more of an issue for Cir.

One of the things she does is to rest up several days before on outing. If you have to go to the doctor or have an event or part to attend, rest and conserve your energy.

Plan one or two a week

Try not to do several outings in a row. Plan one or two a week with a couple days in between so you'll have time to "recuperate". This may seem like a simple thing to do, but not always.

Cir was so active before he stopped working. He was used to being able to get up and go, whenever. Now he gets up and decides how he feels. Then we go or we stay.

If he's gone out the day before, we usually wait a day or two before going out again. Planning as an MSer is not the easiest thing to do. But it can be done to a certain point.

Be flexible

Also, flexibility is a must. If something happens - one of your symptoms flares up - change your plans. There were so many times when we had to change our plans because Cir just didn't feel up to going out.

I used to take it personally and feel like the kids would be irreparably damaged if we didn't do what we'd promised. One lesson I finally had to learn was, that "there's always tomorrow".

As someone with MS, you will probably learn this early. In order to enjoy your life, pacing yourself is a necessity. It's not the end of the world if you don't get it done today.

The most important thing...

What's more important? You, your family, your well-being. Don't rush anywhere. Take your time. Start earlier if you have to. Prepare things the night before. Figure out ways to get things done slower, but more efficiently. Pace yourself.



---

This months book is by Ivy and Andrew Larson. "The Gold Coast Cure - The 5-Week Health & Body Makeover - A Lifestyle Plan to Shed Pounds, Gain Health and Reverse 10 Diseases"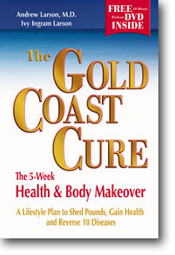 Ivy was diagnosed with multiple sclerosis when she was 22 years old. A newlywed, she was not ready to hear that she had a disease like MS. "I thought my life was over. (MS) sounded like a living nightmare to me. Grim thought flooded my mind: Would I ever be able to have children? Would I always need to wear a catheter? Was I going to end up in a wheelchair?".

The book came about when her doctor gave her two choices - she could begin one of the medications used to treat MS at the time. Or she could try the Dr. Swank diet for multiple sclerosis. She chose the diet.

It helped, but it was bland and hard to follow. So she began doing her own research. Even though her husband, a medical student at the time, was skeptical, he soon joined in.

What they came up with

Fast forward to now, they have developed a program that works - "The Gold Coast Cure". All of her symptoms have gone into remission. She is able to run on the beach with her little boy, (yes, she had her child).

And now they teach others how to do the same, in 5-weeks. The program is for you if you have multiple sclerosis, obesity, heart artery disease, type II diabetes, asthma, allergies, osteoarthritis, fibromyalgia, osteoporosis, vascular dementia, high blood pressure, or high cholesterol.

It's a complete program including over 75 recipes, a complete pantry makeover, brand-name shopping guide, a daily vitamin planner, and a 30 minute workout DVD. All with the intention of reversing or eliminating the above degenerative diseases.

Our review

After reading through the book, we already do many of the things she suggests. It wouldn't be that much of a stress to go all the way. We're always looking for ways to eat better.

Some of the exercises aren't very practical for someone with more advanced MS symptoms like severe imbalance. My thoughts are that if you can do any type of exercise at your particular level of disability, then you're sure to get some benefit. The benefits may be a little slower in coming, but you will get there.
And talk about good timing. I just received an email from the Larsons today promoting their newest cookbook - "Wholefoods Diet Cookbook" - Here is the entire email.

Hi Everyone,

Andy and I wanted to let you all know our third book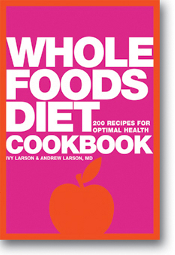 Whole Foods Diet Cookbook: 200 Recipes for Optimal Health will be officially released June 1st. The book is currently available on www.Amazon.com and will be in bookstores and select Costco stores nationwide next week.

Whole Foods Diet Cookbook includes six nutrition chapters on how and why to adopt a "whole foods" diet and seven "whole food" recipe chapters featuring:

Brunch Munchies such as Crepes with Strawberry Filling, Individual Baked Omelet Soufflés with Leeks and Mushrooms, Baked Whole-Grain Millet and Lemon Custard Cups, etc.

One Dish Chic one-dish meals such as Slow Cooker Fiery Cajun Creole with Seafood Trio, Volcano Ahi Tuna Rolls, Tofu Cubes in Spicy Tomato-Orange Garlic Sauce, etc.

Weeknight Dinners featuring complete menus for easy everyday meals such as White Bean-Butternut Squash Ragout over Polenta Squares.

Company is Coming featuring complete menus for effortless entertaining such as Shrimp Kabobs with Vodka-Lime Marinade and Curried Butternut Squash Soup.

Making it on Occasion featuring "whole foods" menus for 4th of July, Super Bowl, Thanksgiving, etc.

Wine Flight & Taste of the World Appetizers such as "Passport to Italy" featuring Mini Quinoa Pizzas, Sicilian-Style Crab Cakes, Bite-Sized Spinach and Mozzarella Frittatas and wine flight suggestions.

Almost Guilt-Free Treats such as Refrigerator Almond Butter Pie with Chocolate Crust, Sweet and Savory Frozen Vanilla Peach Custard, Warm Pistachio Pudding, etc.

More information on the Whole Foods Diet Cookbook, including recipe photos, is on our website at www.the2Larsons.com.

We are very excited as we are getting a great deal of preliminary media interest in the book so far! I have appointments in NYC next week with Food & Wine, First for Women, Good Housekeeping, Family Circle, Ladies Home Journal, Natural Health, People Magazine, Today Show, Fox & Friends, etc. We will also be on the June/ July cover of Healthy Living magazine and featured in Better Nutrition, www.diet.com, the Palm Beach Post, etc.

The media coverage is always a huge help, but we also need the support of family and friends. Please help spread the word and forward this email on to anyone you think might be interested. Also, for those of you who live in Palm Beach County, we are planning several upcoming book launch events....stay tuned!

Warmly,

Ivy Larson (Andy too!)

Authors of Amazon.com #1 Best-selling Gold Coast Cure, Gold Coast Cure's Fitter, Firmer, Faster Program and Whole Foods Diet Cookbook.
~ Ivy and Andrew Larson ~
---

Here's my favorite part of the newsletter. I hope you enjoy it as well.

And before I forget, if you'd be interested in adding your art, poetry, or writing, in a room of your own, check out Life in Spite of MS~Space. There you can add your pictures, writing, whether it's poetry, short stories, advice, or just your thoughts about MS.

Here's this month's cartoon:

You Know You Have MS When...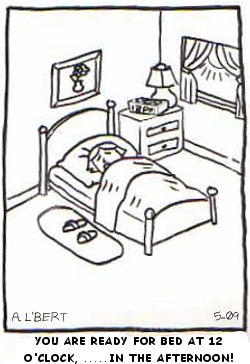 ---

We hope you enjoyed the fifth issue of The MS Experience. And again, you are welcome to share it with others who you feel may be interested or send them to The MS Experience to subscribe.

The videos are getting closer to completion and we have several other things, including a contest, in the works. So check back often and look for the newsletter toward the end of next month. See you then!