Hi there!


Welcome to issue no. 05-15 of The MS Experience,
our Life in Spite of MS Newsletter. As always, we are pleased to be able to bring you special tips, recipes, and more that will help you in your everyday life.
Every issue is archived on the website if you'd like to read it again. Plus you are also welcome to share these archived issues with your friends if you think they would benefit from them.
Spring into Life - Along With the Trees, Flowers, and Your Garden!
We're are glad to be able to bring this issue to you. We have been missing in action for several years and sincerely wish to apologize for our absence. As you know when MS is in the picture, many things often get put on the back burner.
Many of you have recently subscribed and have yet to receive your first current issue. Well here it is and we hope you enjoy reading it.
We really do love doing the newsletter and will definitely try and keep up with it during the coming spring and summer months. It gives us a place to add more helpful tips, articles, and recipes.
At Last Count we were over 140 Members!
Have you heard of The Link? Are you a member? If you answered yes, we have just begun a new forum - The Link II - complete with chat room. We have been moving members over to the new forums as we get the time. You are welcome to register on your own - you'll find the link below.
Please make use of the forums and chat room, we're looking for volunteers to moderate, as well. So if you think that's something you'd like to do, add your name to the forum post here. We thank everyone who has joined and support our continuously growing site.
And if you haven't joined already, we encourage you to come check out The Link II. It's our very own forum - where you can meet other visitors, share photos, music, and videos and discuss to your hearts content.
You can add a new discussion or post to the discussions already started. I've already added a few to get started. The link to The Link II is down below. : ) And again, after you join, be sure to invite your friends and family as well. We welcome anyone who has a loved one with MS. (Clicking the link above will open a new window).
The Focus Is...
The focus of this months newsletter is on moving forward. So many of us get stuck, unable to move or progress in our present situation. The tips we offer today may help you make the next step.
Spring is always a wonderful time of year, even with the over-abundance of rain we sometimes get - which is good for the garden. And as long as it's not freezing rain, then I don't mind it. Otherwise I'd just as soon stay indoors until it has passed. I do love the warmer weather, which will soon be here to stay. I am so glad the snow has melted and is over and done with.
For MSers, spring is a welcome change. You no longer have to deal with the icy, snowy conditions when trying to get out and about. And if they've kept you in, you've probably had a bad case of cabin fever right about now. Well have no fear, spring has sprung and is bursting with life. We can all have warmer, (and safer) conditions to explore what's new in our world.
As always, you are welcome to share this newsletter with your friends and family. And if someone shared this newsletter with you, be sure to subscribe now so you won't miss out on a single upcoming issue.
So, grab a cup of your favorite beverage, (coffee, hot cocoa, green or herbal tea, (try Celestial Seasonings – Honey Chamomile, sounds delish, don't you think?) Go ahead, we'll wait until you get back. Have a seat, get comfortable, relax, and enjoy!
---
Recipe of the Month
For the past 6 months or so, Cir and I have been eating a mostly Paleo type diet. If you haven't heard of it, just think back to round about the 80's - I know, I know. I'm telling my age - when the caveman diet was popular. Well, Paleo is sometimes called the Caveman Diet. You eat in a way that is very similar to the way our Paleolithic ancestors ate.
And what way was that? I know your curious if you haven't heard of it yet. And I know if you're familiar with that period, you may have already conjured up visions of cavemen and women running around with clubs and spears trying to kill something for dinner. Or gathering berries out in the wild.
Well, fortunately, we've progressed to the point where we can do our gathering in a grocery store or better still at a health food store or farmer's market. There are a few rules for eating this way, that we should probably lay out here before getting started.
First the don'ts or foods to avoid:

1 - grains including corn, soy, wheat, rye, etc., and anything made from them 2 - legumes 3 - All processed foods 4 - artificial sweeteners Basically, if it's not whole foods, you shouldn't eat it.
Now on to the do's or foods you can eat:

1 - fruit, fresh or dried, preferably organic - limit to 2 to 3 servings per day, especially if you want to lose weight 2 - veggies, preferably organic - pretty much whatever you like, accept for white potatoes 3 - seeds, nuts, (peanuts are not nuts, but legumes) 4 - grass-fed, humanely raised meat, fish, poultry, and pork

These do's and don'ts are just the very basics of eating Paleo or AIP. You may need to make a few adjustments so that it will work for you and your family. Totally eliminating grains was a big deal for us. So much of what we ate involved some sort of bread or baked good. To quit "cold turkey" was a little challenging, but so worth it. The benefits are so noticeable, it amazed us.

We both had almost effortless weight loss. We also had less inflammation, which was a plus. More energy - just lots of little things that are too numerous to mention here. We did the "Whole30" approach and tried it for a month before deciding this was the lifestyle change we needed to make.

The recipes here are all Paleo and/or Primal and a couple will follow the Autoimmune Paleo diet or AIP. So without further ado, here are the recipes - Enjoy!

xxxxxxxxxxx




xxxxxxxxxxxxxx
xxxxxxxxxxxxxxxxxxxxxx
xxxxxxxxxxxxxx
xxxxxxxxxxxxxxxxx
xxxxxxxxxxxxx
xxxxxxxxxxxxxxxxxxxxxxx
xxxxxxxxxxxxxxxxxxxxxxxxxxxxxx
xxxxxxxxxxxxxxx
xxxxxx
xxxxxxxxxxx
xxxxxxxxxxxxxxxx


1. xxxxxxxxxxxxxxxxxxxx.
2. xxxxxxxxxxxxxxxxxxxxxxx.
3. xxxxxxxxxxxxxxx.
4. xxxxxxxxxxxxxxxxxxxx.
5. xxxxxxxxxxxxxxxxxx
6. xxxxxxxxxxxxxxxxxx.
7. xxxxxxxxxxxxxxxxx.
8. xxxxxxxxxxxxxxxxxx. (Serves 4)


Recipe by xxxxxxxxxxx


Have you ever had fruit for dessert, instead of cookies, cakes or other baked goods? Here's a gluten-free dessert recipe for you to try.


xxxxxxxxxxxxxx

xxxxxxxxxxxxxxxxx
4xxxxxxxxx
xxxxxxxxxxxxxxx
xxxxxxxxxxxxxx
xxxxxxxxxxxxxxx
xxxxxxxxxxxx


1. xxxxxxxxxxxxxxxxxxxxxx.
2. xxxxxxxxxxxxxxxxxxxxxx.
3. xxxxxxxxxxxxxxxxxxxxxxx.
Serves 2


xxxxx Green Smoothie

xxxxxxxxxxxxxxxx
xxxxxxxxxxxxxxxxxxx
xxxxxxxxxxxxxxxxxxxx
xxxxxxxxxxxxxxxxx
xxxxxxxxxxxxxxxxxx
xxxxxxxxxxxxxxx


1. xxxxxxxxxxxxxxxxx
2. xxxxxxxxxxxxxxxxxxx.
3. xxxxxxxxxxxxxxxxxxxx.
4.xxxxxxxxxxxxxxxxxxxxx. Serve immediately.


Serves 1

xxxxxxxxxxxxxxx xxxxxxxxxxxxxxxxxxx.org. xxxxxxxxxxxxxx recipe is from my Vita-Mix Cookbook, distributed by Find out more about the Vita-Mix here.

Note: If you would like more recipes like these, , drop me a line and let me know.


---

This quote is perfect to start the year off with.

Here's the quote. Enjoy it!


---

What does it mean to have a new outlook on life? I suppose when you really think about it, it has a lot to do with making resolutions. I like to think of it as making a fresh start.

Not necessarily making a promise to do something in a certain amount of time. More like deciding to live your life differently. And that decision doesn't have to be a big giant change all at once. Changes, no matter how small, can make a big difference in your life.

These small changes can lead to even bigger changes down the road. The main thing is, is that you start. That way you have something to build upon – something to grow.

What Do You Want?

What do you want in your life? Is it something you can possibly work towards or attain within a year? Do you need the help of someone else or can you get there on your own?

Start with a list of possible changes you'd like to make. Then decide what it will take to get you there. Suppose you want to lose a few pounds. I know, I know. This is what everyone wants to do at the beginning of the new year. I think if you try it as a life change and not a resolution, you are more likely to stick to it.

What will it take for you to lose a few pounds? Eating more healthy foods, right? Now what baby step can you take to get you there? Eat more fruit. So the next time you shop or send someone to the store, get a bag of apples.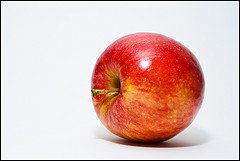 Now you have the apples on the kitchen counter. The next time you want a snack, grab an apple. Wash it off, and either slice it up or eat it whole. Add it to a smoothie or cut it up in your salad.

Expectations

What can you expect when you make changes like this? Not much, you say. Well that may be true if you're only talking about one month or even two. Over the course of a year, however, that simple change could mean the difference between an additional 5 or 10 pounds. Because you substituted an apple for a cookie or a slice of cake, the healthier choice meant less weight gain.

So, small changes mean big differences. Even if those differences take place over a longer period of time. They still mean something. And that something is important in your life in the long run.



---

(Clicking image below will open a new window).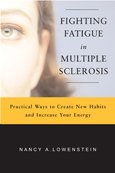 Book of the Month

This months book Fighting Fatigue in Multiple Sclerosis: Practical Ways to Create New Habits and Increase Your Energy by Nancy Lowenstein is a book that may actually help you make the changes you want to make over the course of the year. At least it will help you deal with one of the main symptoms that may keep you from getting what you want.

It has 9 chapters, including the following:
Busy Lives, Busy Minds, and Busy Bodies
A Look at Your Daily Routine
It's All so Important! What Can I Change?
Ways to Grab Some Rejuvenation
Incorporating Exercise Into Your Daily Routine: The Importance of Exercise in Combating Fatigue
Fitting It All In
Do I Have to Go Upstairs Again? How Your Environments Tire You Out
Ways to Simplify Activities and Tasks
How to Make Changes Stick

The information in this valuable resource can help individuals with MS learn techniques to assist them in having more energy to do the activities they enjoy. Lowenstein's expertise on fatigue management, rehabilitation, and environmental modifications make this the go-to book for dealing with fatigue and MS.

Of the 400,000 people in the US with multiple sclerosis, 86% cite fatigue as the number one symptom of their disease. If you are one of these people, Fighting Fatigue in Multiple Sclerosis: Practical Ways to Create New Habits and Increase Your Energy is the book for you.

You don't have to simply put up with fatigue, or resort to substances such as caffeine, sugar and medications to combat it, instead this book will show you how to use "Energy Conservation Techniques" to deal with this debilitating symptom. Studies show that these techniques have a positive impact on a person's ability to deal with fatigue as a result of MS.

If you'd like your own copy of Fighting Fatigue in Multiple Sclerosis, click the link (will open a new window).



---

Have you ever felt invisible? This is especially true when you are in a wheelchair. We've had this happen several times when we are out. Sometimes I don't say a word, just look at my husband and let him respond.

How do you respond?

You can still check here for past Cartoon of the Month cartoons.

This months cartoon is also drawn by my 17 yr old daughter, Nasya. She is an up and coming young cartoon artist. Enjoy her artwork - (she may be famous soon).
Here is the cartoon. We hope you enjoy it.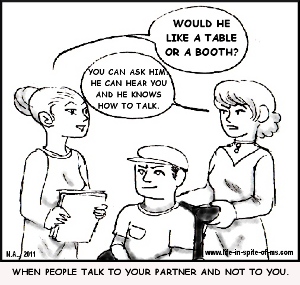 Hope you enjoyed this months newsletter, and if someone shared The MS Experience with you, be sure to sign up here for your own subscription.

Until next month, be safe as always.