Hi there!


Welcome to issue no. 11 of The MS Experience,
our Life in Spite of MS Newsletter. As always, we are pleased to be able to bring you special tips, recipes, and more that will help you in your everyday life and during the coming year.

Every issue is archived on the website if you'd like to read it again. Plus you are also welcome to share these archived issues with your friends if you think they would benefit from them.

Your MS and the coming year

When we first began this issue of the newsletter it was scheduled to come out at the beginning of the year. Needless to say we've made it half way through another year. We had a bit of a delay in issues because we finally moved. Yes, we finally found a place that was accessible. And with a few minor adjustments, everything is working out fine.

How has your year been going? Has it been all that you wanted it to be? Do you think we'll have a cure for multiple sclerosis? I believe we are very close to achieving that goal.
With all of the research going on in every part of the world, something great is bound to happen. I'm very excited about the recent discovery of CCSVI and the progress that has been made wit this treatment. If you haven't read about it yet, you can check it out here. (Clicking the link will open a new window).
Have you been to The Link yet? It's our companion site - a network with a forum/message board. You can meet other visitors, share photos, music, and videos.
There are plenty of things to do, so join us. Here's the link to The Link : ) Once you get there, invite your friends and family as well. (Clicking the link will open a new window).

Network changes and additions

Even as we invite you to The Link, there will be a few changes in the coming months. We have added a Cafe Press Shop to help with the costs of keeping the network running. Take a look at the T-Shirts and other items to see if anything catches your eye.

We've also added a Games section and a Donation section which we may remove depending on the rules. We would appreciate your input.

The focus is....

This months newsletter turns the focus on reflecting on where you've been and deciding where you will go from here. When you have MS, planning can be one of the most frustrating things to do. Planning is not what I'm talking about in this newsletter. You may not be able to make plans, but you can make decisions.

As always, you are welcome to share this newsletter with your friends and family. And if someone shared this newsletter with you, be sure to subscribe now so you won't miss out on a single upcoming issue.

So, grab a cup of your favorite beverage, (a fruit smoothie or iced tea, maybe?) Go ahead, we'll wait. Have a seat, get comfortable, relax, and enjoy!



---

More than likely, you made a few resolutions for this year. If losing weight is one of them, good for you! If you still have the ability to move about easily, this resolution can be accomplished by doing more exercise and changing your diet a bit. And since we're half way through the year, why not renew your resolutions?

If your mobility has been effected by MS, then you will need to find other ways of getting "exercise". One way can be going to an MS support group that focuses on some type of low-impact activity. This can be swimming, yoga, pilates, or tai chi. Whichever one works for you, go for it! Just modify it for your needs and ability level.

Usually along with an exercise program, a way of eating is also suggested. This can be as simple as changing a few things in your diet. I've never been an advocate of diet programs and I'm not about to start now. I realize, though, that many MSers face challenges when it comes to eating, period.

Depending on your ability and mobility, you may or may not prepare and cook your own food. Because of this, you may not be able to make your own buying decisions aside from making a list.

If you have the ability to shop and still get in the kitchen and prepare your meals, then you have a bit more control over what you eat. If fatigue is an issue, this may also limit the amount of time you feel like spending in the kitchen preparing healthy meals as well.

With all that said, you do the best you can. Hopefully you have reliable help available when you need it. Whether it's someone who can help you shop or do the shopping for you or someone who can plan and prepare healthy meals when you don't feel up to it.

This months recipe is also from Swank and Dugan's Multiple Sclerosis Diet book. All of the recipe's in the book are low in saturated fats. This way of eating is, according to the author's research, is how you can feel your best more of the time. It isn't necessarily a "healing" diet, but you should at least feel better.

Here are a few "cool" recipes that should be perfect for the hot days of summer – Homemade Tortilla Chips and Salsa. Plus a few sandwich spread recipes can be found here at Sandwich Spreads (Clicking here opens a new window). (And if you'd like a few cookie recipes, check out Issue 11 in the back issues).
Homemade Tortilla Chips

You can make tortilla chips from the packages of pre-made tortillas you find at the store. Buy a pack of your favorite brand corn tortillas. The cook book says to use pure vegetable oil to brush lightly over the tortillas. Cut them into small pie shaped pieces and place on a cookie sheet. Bake 10 minutes at 400 degrees F. Store them in an airtight container. Serve with Salsa or your favorite spread or dip.

Salsa
1 16-oz. Can tomatoes, drained and finely chopped or 1 pound fresh tomatoes, peeled and chopped
1 4-oz. Can green chili peppers, rinsed, seeded, and chopped (jalapenos if desired)
1/2 cup finely chopped onion
1 T vinegar
1 tsp sugar
1/8 tsp salt
1/2 tsp cilantro

In a mixing bowl, thoroughly combine tomatoes, chili peppers, and onion. Stir in vinegar, sugar, salt, and cilantro. Let mixture stand at least 30 minutes at room temperature. Store in refrigerator. Serve with homemade Tortilla Chips or as a relish. Yields approx. 1 cup.
Fat: None Oil: None

Bean Dip
1 8-oz. can pinto beans
1/4 cup oil
1 small onion
1 small garlic clove, minced
1 4-oz. Can green chilies
1/4 tsp cumin (optional)

Rinse pinto beans with cold water. Place in blender or food processor. Add oil and blend until beans are a smooth consistency. Add onion, garlic, and green chilies. Blend. Add cumin and blend well. Heat thoroughly. Yields 1 cup.
Fat: None
Oil: Total—12 teaspoons; per serving of 2 Tablespoons—1 1/2 teaspoons

All recipes from The Multiple Sclerosis Diet Book.

Note: If you would like me to include more recipes from The Multiple Sclerosis Diet Book, drop me a line and let me know or better yet, why not get a copy of your own!


---

This months quote and picture have everything to do with the season of summer. We love gardening and the lessons we learn from it. This months quote is will hopefully give you something to think about while your digging in your garden.


Here's the quote. Enjoy it!


---

How long has it been since you had to make a decision about something? A decision about the treatment or medication you will use? About which company will provide your caregivers or nurses aides? About whether or not to call the doctor when you have a new symptom or just wait it out? About which doctor will be on your treatment team?

Some decisions are easy to make. You can simply decide either yes or no. It's that simple. No worrying about whether it was right or wrong.

On the other hand, some decisions take a lot of time or effort. The outcomes make a stronger impact on your daily life and those around you. They aren't just a simple yes or no.

For some people, decision-making comes easily. For others, decisions can be a great source of stress. And stress as you know is not your friend.

My only tip this month is about making decisions. If you are one of those people who has a difficult time making decisions, take these steps to make the process a little easier.

Educate

First of all, the more you know about something, the easier it is to talk intelligently about it. And the easier it is to decide if you want that something in your life.

So, for example, if you need to decide about a treatment or medication you will use, why not look it up on the internet or find a book about it. If you have a doctor you can trust, ask questions about it. Why does he think you should take this medication as opposed to another one.
Do you have family or friends who are a part of your team? You can ask for their help in finding out about whatever it is you need to make a decision about. Ultimately the final decision will be yours, but it helps to get input from someone close to you.

Pros & Cons

Next, if the decision you need to make involves more than one thing, weigh them against each other. First take each one separately and decide what you like and don't like about each one. Write it down - make a list. Then decide which is the better option based on which one you liked better, or had the least number of things you didn't like.

Still can't decide?

If you still can't make up your mind, just sleep on it. Usually after a day or two of not thinking about something, I can finally make a decision I'm comfortable with. It even helps to ask the question out loud before you fall asleep.

"Which medication should I take?" Then forget about it and go to sleep. Many times the answer will come to you, possibly in a dream or during the day when you're not really thinking about it.

Most of all, don't stress about it. That's the worse thing you can do. And once you make your decision, believe that you made the best one for you. Don't second guess yourself.

And best of all, if it doesn't work out, you can always try something else. Decisions aren't made in stone. If you find that something doesn't work as well as you thought it would, move on. Try the next thing on your list.

Whatever you decide will be best for you at that time.

Hope this months tips were helpful. Our wish is that you have a wonderful summer – not too hot. Stay cool and enjoy!



---

For this section and this month only, I would just like to make you aware of the new Book Shop @ Life in Spite of MS (clicking the link will open a new window to take you there).

I've added many of the books we've already talked about in past issues, plus added several more that have been helpful to us. Hopefully they will be helpful for you as well. A few are under $10 and most are under $20.

Here are just a few of the titles you may want to check out:
Comfort of Home Multiple Sclerosis Edition: An Illustrated Step-by-Step Guide for Multiple Sclerosis Caregivers by Maria M. Meyer and Paula Derr, RN with the National Multiple Sclerosis Society
Cooking Well: Multiple Sclerosis by Courtier, Marie-Annick
Multiple Sclerosis and Having a Baby: Everything You Need to Know about Conception, Pregnancy, and Parenthood by Judy Graham

Look through the shop to see if any of the titles interest you. If they can be of help, that's great. We will add more titles as funds allow. We want to provide you with useful resources to help in your daily living with MS.



---

We've been having a heat wave here where we live. Needless to say, outside activities have been cut to a minimum. We usually wait till late in the day to run errands.

With that said, this months cartoon is one that I am sure you may be able to relate to. Sometimes when Cir is at home, he doesn't use his canes or walkers to walk short distances.

While we're not saying that this is safe to do, especially according to his PT - physical therapist, sometimes it's quicker or easier. When you are feeling strong and not fatigued, and your walls are available, well....

You can still check here for past Cartoon of the Month cartoons.

We hope you enjoy it.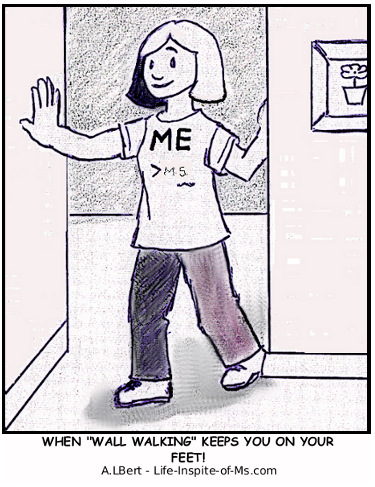 Hope you enjoyed this months newsletter, and if someone shared The MS Experience with you, be sure to sign up here for your own subscription.

Until next month, be safe as always.